ExpressVPN vs IPVanish
---
There are plenty of providers that claim to offer the best VPN services. As a result, choosing the right one to spend your money on can be a bit difficult. When searching for a VPN service, two names you are likely to come across are ExpressVPN and IPVanish.
ExpressVPN and IPVanish are two of the top names in the world of online security and privacy. They both have a long-standing history of providing high-quality VPN services to users everywhere.
ExpressVPN has tons of servers, offers superb customer support, and has a user-friendly app. IPVanish, on the other hand, claims to be the world's only "top-tier" VPN provider, delivering an easy-to-configure service. Both VPN providers support numerous apps and provide access to geo-blocked content.
In this review, we'll take an in-depth look at ExpressVPN and IPVanish, assessing their features and performance to find out which is worth your hard-earned money.
ExpressVPN vs. IPVanish - Two VPN Leaders Compared
---
ExpressVPN is based in the British Virgin Islands and was launched in 2009. This VPN service is operated by Express VPN International Ltd. ExpressVPN has a vast network of over 3000 servers in 148 locations spread across 94 countries.
ExpressVPN has one of the best server network coverage in the US and Europe. However, this VPN provider also has servers in many locations in Asia and several other countries that rarely appear on other VPN providers' list of server locations.
ExpressVPN uses state-of-the-art technology to protect your privacy and provide unrestricted access to the web. ExpressVPN protects your internet traffic using their DNS servers and high-end encryption technologies that prevent anyone from snooping on your online activities. This VPN service also supports split-tunneling to control which apps use VPN and which would use your regular internet connection.
IPVanish is based in Orlando, Florida, and was launched in 2012. The VPN service is owned by Mudhook Media Inc. Over the years, the company has grown and now has a network of over 1000 servers spread across 75 locations worldwide.
IPVanish owns most of its servers and takes charge of maintaining them. This means the company can take a hands-on approach to protect your data and guarantee the very best VPN service. This VPN provider offers many of the same features that you will get from ExpressVPN, including powerful encryption, 24/7 customer service, and so much more.
ExpressVPN and IPVanish are available as an app for Mac, Windows, iOS, Android, and Linux devices. IPVanish is also available for devices running on ChromeOS. You can install these VPNs on your router, smart TV, gaming console, or smart home devices. ExpressVPN and IPVanish have browser extensions for Chrome and Firefox. ExpressVPN also has an extension for Edge.
IPVanish came along a couple of years after ExpressVPN was launched, so it is easy to assume that ExpressVPN would toss the younger competitor in the trash based on experience. But, that is not exactly the case.
Although it has been around for just under a decade, IPVanish has become one of the leaders in the VPN field thanks to its unmetered connection and numerous features. This VPN is trusted by millions of people across the globe.
ExpressVPN is a highly-rated VPN provider that stands out from the crowd thanks to its fast, reliable network of servers as well as its security tools.
ExpressVPN and IPVanish are both highly-rated, so choosing between them can be somewhat tricky. That's why we've come up with this detailed comparison to help you make a well-informed decision.
Speed Test
---
ExpressVPN is known for its blazing-fast VPN server speed; this is one of its claims to fame. IPVanish also offers high-speed internet connection. VPN speed is largely a result of the number of servers that a VPN provider has and the servers' proximity to users. ExpressVPN has over 3000 servers, while IPVanish has over 1000 servers. This gives ExpressVPN an edge in terms of speed.
ExpressVPN launched a major performance upgrade with the Lightway protocol. This protocol delivers much faster speeds than OpenVPN, which is the standard in the industry. No matter which ExpressVPN server you connect to, you are guaranteed quick and reliable service anywhere in the world.
IPVanish does not support any cutting-edge protocols and relies mainly on OpenVPN. Therefore, this VPN is not as fast as ExpressVPN. IN our tests, ExpressVPN has an average speed of 150Mbps, while IPVanish posted an average speed of 85Mbps to 100Mbps.
ExpressVPN tops IPVanish in terms of speed.
Features
---
Due to the competitive nature of the VPN field, providers like ExpressVPN and IPVanish are always upgrading their network with new features, updates, and improvements. Here are some of the features you stand to enjoy from these VPN services.
ExpressVPN features:
Unlimited bandwidth; no throttling
Unlimited server switching
Supports five simultaneous connections
AES 256-bit encryption
Multiple protocols; OpenVPN, IKEv2, L2TP-IPsec, SSTP, PPTP, and Lightway
SOCKS5 web proxy
Zero logging
Torrent and P2P support
Access to geo-blocked content
Kill switch
DNS leak protection
TrustedServer technology
Split tunneling
24/7 customer support
30-day money-back guarantee
IPVanish features:
Unlimited bandwidth; no throttling
Unlimited simultaneous connections
Unlimited server switching
Up to 40,000 IP addresses
AES 256-bit encryption
Multiple protocols; IKEv2, L2TP/IPSec, and OpenVPN (UDP and TCP)
SOCKS5 web proxy
Zero logging
Torrent and P2P support
Access to geo-blocked content
Kill switch
DNS leak protection
Split tunneling (for Android devices only)
XOR obfuscated servers
Free 250GB cloud storage on SugarSync
24/7 customer support
30-day money-back guarantee
In addition to these features, ExpressVPN has a smart location feature that connects you to a recommended server at the click of a button. There is also a built-in speed test that measures latency, speed, and server distance to ensure that you are getting the fastest possible connection.
ExpressVPN has an inbuilt obfuscation feature that works with some of its servers. The obfuscation feature hides your VPN traffic, allowing you to use VPNs even in a country like China.
IPVanish has an inbuilt scramble feature that works the same way as the ExpressVPN obfuscation feature.
In terms of features, both ExpressVPN and IPVanish have some excellent features, so I'd say it is a tie in this category.
Reliability
---
IPVanish allows its users to connect an unlimited number of devices simultaneously, while ExpressVPN allows its users to connect only five devices simultaneously.
In terms of customer support, ExpressVPN provides 24/7 live chat customer support. The live chat service is user-friendly and incredibly helpful. Also, just in case your chat gets disconnected, their agents take your email address (if you are registered), and they send you answers via email - convenient, right?
If you do not want to have a live chat with an agent, ExpressVPN has an FAQ, user support guides, and setup guides on their website that cover just about everything you could need to know. The ExpressVPN website is easy to navigate and is available in 16 different languages. Their customer support center operates in 6 of those languages.
IPVanish, on the other hand, relies on an email ticketing system and a 24/7 live chat service. While IPVanish's customer service is excellent, you may not be able to get reliable technical advice if something goes wrong with your service. Also, their customer support center works in just one language.
Both ExpressVPN and IPVanish are very reliable. IPVanish had a few issues with its service in 2020, but that problem was quickly resolved. ExpressVPN does not have any history of connectivity issues.
Ultimately, these two VPN providers are very reliable and, therefore, there is a tie in terms of reliability.
Security
---
Security is the cornerstone of every VPN service. Therefore, providers like ExpressVPN and IPVanish have numerous security provisions.
Encryption: ExpressVPN and IPVanish use the highest standard 256-bit AES encryption and the same protocols, combining AES 256-bit cipher with 4096-bit RSA keys and SHA-512 HMAC authentication.
AES 256-bit encryption is symmetric, meaning that the same key used to encrypt your data must also be used to decrypt it, making it almost impossible to break. The world's most powerful computer would take billions of years to decrypt just 0.1% of the data that it holds. SHA-512 HMAC authentication is used for highly secure data transfer. By using a shared secret key, both the sender and the receiver have a way of verifying the authenticity of the file.
VPN Protocol: ExpressVPN gives you six security protocol choices, while IPVanish gives you just three options. You can choose which protocol you prefer, or the platform will automatically select the best protocol for the most reliable connection.
Split Tunneling: ExpressVPN and IPVanish support split tunneling, which allows you to determine which browsers and apps to route through your VPN connection.
Kill Switch: Both ExpressVPN and IPVanish have an automatic kill switch that makes sure your IP address is not accidentally exposed if your VPN connection is interrupted for any reason. IPVanish's kill switch is only available for its Mac and Windows apps.
SOCKS5 Proxy: This feature, available on ExpressVPN and IPVanish, hides your IP address and ensures you enjoy fast connection speeds.
DNS Protection: ExpressVPN and IPVanish have DNS protection on their servers. This keeps you anonymous, protecting you from any potential leaks.
Both ExpressVPN and IPVanish boast of outstanding security credentials, so this is a close tie.
Logging Policies
---
IPVanish has a zero-logging policy. The company has voiced its commitment to protecting user privacy. However, there has not been any independent audit to prove this.
IPVanish has been caught in some logging controversies in the past. In the past decade, the company has reportedly turned over user data to the FBI and US Department of Homeland Security.
This raises some questions about IPVanish's logging policies. However, the company has undergone a change in management, and there has been no logging controversy since then.
ExpressVPN has a zero-logging policy. The company does not log any personal data or any data that can be used to identify any particular user. The information that ExpressVPN records include the client version number, connection date, and choice of server.
To verify its zero-logging claims, ExpressVPN has been audited by a third-party, PricewaterhouseCoopers (PWC). The audit proves that ExpressVPN is dedicated to protecting your privacy and does not violate its no-logs policy.
The transparency of ExpressVPN and the fact that it has not been embroiled in any logging controversies make it a better choice than IPVanish in this category.
Jurisdiction
---
ExpressVPN is based in the British Virgin Islands. The British Virgin Islands is an independent political and legal entity that cannot be forced to give in to the UK's data demands and demands from other countries. Also, the island nation is not part of the 5/9/14 Eyes alliance. This means you can be assured of the security of your data security.
IPVanish is based in the United States, which puts them under the jurisdiction of the United States. The United States is a member of the infamous Five Eyes Surveillance alliance. There have been cases where United States companies have been forced to violate their privacy policy and hand over data to authorities. As indicated above, IPVanish has been a victim of these invasive US laws.
If jurisdiction is a major concern to you, then you are better off choosing ExpressVPN.
Streaming Capabilities (Netflix, Hulu, etc.)
---
ExpressVPN allows you to get past geo-restrictions and stream content from sites like Netflix, Hulu, Amazon Prime, Disney Plus, BBC iPlayer, HBO Go, and more. You can stream in HD across all of ExpressVPN's 20+ US servers and their servers in Australia, Germany, South America, Brazil, Chile, and Peru. ExpressVPN provides super-fast streaming without any buffering, lags, or pixelated videos.
IPVanish can unblock Netflix and other popular services like HBO Go and YouTube on most of its servers. However, it does not always work. When it works, you get fast connections and incredible streaming quality, but it can be frustrating because it does not always get past geo-restrictions.
There's not too much debate in this area as ExpressVPN is the clear winner.
Torrenting & File Sharing
---
ExpressVPN provides unlimited bandwidth and no data caps. This comes in handy for unrestricted torrenting. You get support for torrenting and P2P sharing across all ExpressVPN servers. While not all of their servers are P2P friendly, ExpressVPN can detect your activity and redirect your connection when the need arises. You can use ExpressVPN safely with uTorrent or any other BitTorrent client.
IPVanish allows unlimited P2P connections on all its servers which makes torrenting safe and keeps your data anonymous. It also means that your connection will be suitable for torrenting.
The wide selection of P2P-friendly servers that ExpressVPN offers will give you more choice and provide a more specialized torrenting experience. Even if you are outside Europe and the US (especially if you are in Asia, Africa, and South America), ExpressVPN delivers a better selection of fast servers that are closer to home. This makes ExpressVPN the winner in this category.
Pricing & Plans
---
ExpressVPN is no doubt more costly than IPVanish. However, there is a discount on the price when you go for a longer subscription plan.
ExpressVPN Pricing:
1 month - $12.95
6 months - $59.95
1 year - $99.95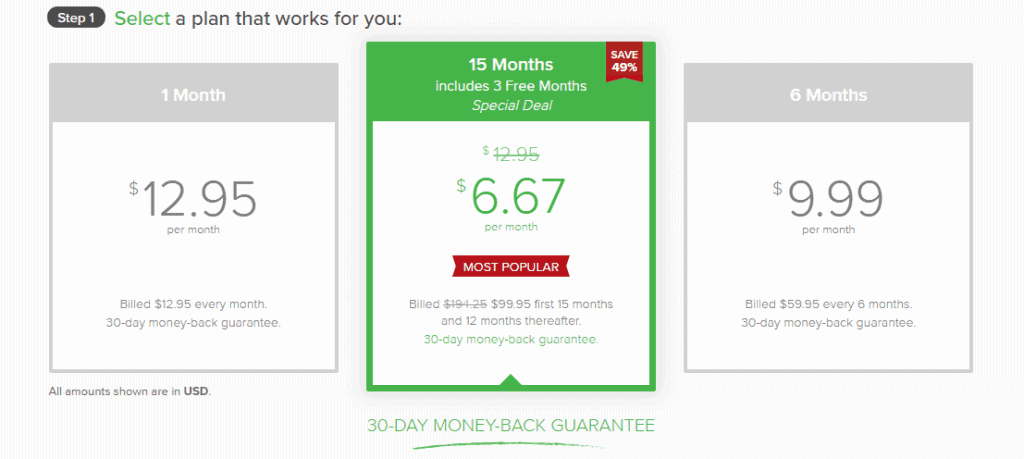 You get access to all the features of this VPN regardless of which subscription plan you choose. ExpressVPN accepts only one payment method – PayPal.
IPVanish offers two different pricing tiers, one for the VPN alone and another bundle for the VPN and cloud storage service. If you go with the combined cloud storage plan, you get 250GB of encrypted SugarSync storage.
IPVanish Pricing:

1 month - $4.49
3 months - $12.12
1 year - $35.04
All IPVanish subscription plans give you access to all the features of this VPN. IPVanish accepts different payment methods, including Visa, MasterCard, Discover, American Express, PayPal, and more.
In terms of pricing, ExpressVPN and IPVanish cut it close. ExpressVPN is a bit cheaper, but all the features it offers make it worth it. Based on price alone, IPVanish is less expensive, so it takes the medal in this category.
Refunds Policy
---
You want to be sure about what you are getting before you get it, right? ExpressVPN understands this and offers a 30-day money-back guarantee, giving you plenty of time to test out every aspect of the VPN before you commit to it.
ExpressVPN has a "no questions asked" refund policy, so you can choose to cancel the service whenever you feel like it. At any point when you want to cancel your subscription, ExpressVPN would process your refund immediately.
IPVanish also offers a 30-day money-back guarantee. If you are not satisfied with this VPN, you can contact the company's customer service staff and request a refund.
IPVanish only requires that the refund request is made within 30 days from the day the subscription was purchased for a refund. The company will refund your money within three business days.
Both ExpressVPN and IPVanish are winners in this category.
Value for Money
---
ExpressVPN offers remarkable value for money. You get just what you are paying for, like its DNS on every server and super-fast connection speeds. ExpressVPN also upgrades its network very frequently to give you peace of mind by keeping your data safe and at the same time giving you a state-of-the-art product.
IPVanish is cheaper. However, it has some drawbacks compared to ExpressVPN, like slower speeds, its history of sharing user data with government agencies, and limited support.
ExpressVPN does have a few drawbacks, like its price. However, the pros of ExpressVPN certainly outweigh that of IPVanish. Although it is more expensive, ExpressVPN offers the best value, so it is the winner in this category.
Conclusion (Overall Winner)
---
With all this information, it is easy to see why ExpressVPN and IPVanish are among the leaders in the VPN industry. There are many features they have to offer, including robust security, support for streaming, remarkable value for money, and relatively affordable pricing.
IPVanish is easy to use and offers fantastic security features making it an excellent VPN service for security-conscious people. However, it does not seem to hold the torch in places like streaming and online entertainment. It also has some compatibility issues and struggles with geo-restricted content. So, in the end, it does not offer a remarkable value for money.
If you are looking for a VPN for privacy alone, and you're probably looking to save some money, you may consider IPVanish. However, if you need privacy plus full, unrestricted access to absolutely everything on the internet, especially streaming various services, not to mention excellent user interface and outright reliability, then ExpressVPN would be your best choice.