How to Change Netflix Region
---
Introduction

The surging popularity of streaming services over the past decade has completely changed how we watch movies and TV shows. Instead of waiting for a movie or TV show to be aired, you can stream it online whenever you feel like it.
Netflix is the number one streaming platform in the world, with over 160 million subscribers. Its service is currently available in over 190 countries across the globe. Due to licensing agreements, Netflix does not provide the same content in each country that it operates. For example, if you live in the US and travel to Europe, you may not have access to the same movies and TV shows on Netflix.
Although Netflix Vice President of Content, David Fullagar, has said that the company is working to provide the same content to its users worldwide, this is still far from the case. Licensing laws vary in each country, and sometimes it isn't worth it for production companies to have their movies and TV series licensed in a particular region due to low demand.
Understandably, this can be frustrating for some Netflix users. Many have tried to get past this geo-restriction by using "unblockers." Netflix announced in 2016 that it has enacted a Proxy Detection system and will block users who are trying to access content that is supposed to be unavailable in their country.
If you can't watch your favorite TV show or movie on Netflix because it is not available in your country, this article was created for you. We will arm you with all the information that you need to get past the company's geo-restriction.
How to Change Your Netflix Region to Any Country

---
You stand a chance to access thousands of new movies and TV shows if you can change your Netflix region, and it is easier to do this than you may think. The most effective way of changing your region on Netflix is to use a VPN.
If you've never heard of a VPN, this is an acronym for Virtual Private Network. When you use a VPN, your traffic is redirected through a server located in another country of your choice, and in this way helps you get past geo-restrictions. For example, if you are in Denmark and want to access movies and TV shows available to Netflix users in the US, all you have to do is select a VPN server in the US.
A VPN does more than tunnel your traffic through other servers. Another advantage of using a VPN is that it encrypts your traffic and hides your IP address. As a result, if you are using a VPN, neither the website you are visiting nor your ISP will be able to know what you're doing online.
Essentially, when you use a VPN to access Netflix, your region is hidden. This means you'll be able to access content from different regions across the world.
Some people also use proxy servers, DNS tunneling, Smart DNS, and unblocker software to change the region on their Netflix account. These tools basically mask your IP address and make it appear as though you are in another country. But they aren't always successful compared to VPNs. As indicated above, Netflix has a Proxy Detection system.
If Netflix detects that you are using a proxy or unblocker software, you'll get an error message that says, "You seem to be using an adblocker or proxy."
Can I Watch Netflix Abroad?
---
Yes, if you are traveling, you can still log in to your Netflix account and watch movies and TV shows provided the service is available in the country you're located in. There's a chance that the content you get may be different if you are in another region. Also, the content on your 'My List' may not be available.
To get access to the same content you had at home, you need to use a VPN and select a server in your home region.
List of Countries Available on Netflix
Netflix is available in 190 countries across the world. The most notable exceptions from this list are China, Crimea, Syria, and North Korea.
The full list of 190 countries where Netflix is available includes:
The United States
Cuba
Canada
American Samoa
Puerto Rico
Guadeloupe
Mexico
French Guiana
France
Netherlands
Poland
Portugal
The United Kingdom
Ireland
Jersey
Germany
Russia
Lithuania
Italy
Belarus
Malta
The Czech Republic
Slovakia
Denmark
Norway
Finland
Sweden
Belgium
Iceland
Switzerland
Ukraine
Macedonia
Slovakia
Slovenia
Romania
Estonia
Moldova
Bosnia and Herzegovina
Bulgaria
Hungary
Latvia
Croatia
Spain
Albania
Cook Islands
Serbia
Andorra
Armenia
Fijian Islands
Austria
Uzbekistan
Hungary
Greece
Hong Kong
South Korea
Singapore
Japan
Thailand
Israel
Australia
Australian Antarctica
India
Argentina
Brazil
Cambodia
Mongolia
Malaysia
Bolivia
Democratic Republic of Congo
Republic of Congo
South Africa
Martinique
Benin
Burundi
Tanzania
Cameroon
Rwanda
Burkina Faso
Swaziland
Ghana
Zambia
Zimbabwe
Morocco

Ivory Coast
Djibouti
Sierra Leone
Uganda
Namibia
Lesotho
The Gambia
Mali
Senegal
Guinea-Bissau
Nigeria
Gabon
Mali
Togo
Kenya
Mozambique
Malawi
Botswana
Madagascar
Ethiopia
Somalia
Central African Republic
Egypt
Algeria
Chad
Mauritania
Comoros
Eritrea
Angola
Sudan
Equatorial Guinea
Libya
Tunisia
Guinea
Niger
Liberia
Cape Verde Islands
Anguilla
Jamaica
Turks and Caicos Islands
British Virgin Islands
Dominica
Grenada
Trinidad and Tobago
Antigua and Barbuda
Saint Kitts and Nevis
Saint Vincent and The Grenadines
Suriname
Sri Lanka
Haiti
Honduras
Dominican Republic
El Salvador
Peru
Ecuador
Nicaragua
Guatemala
Panama
Paraguay
Bahamas
Cayman Islands
Christmas Island
Chile
Aruba
Isle of Man
Belize
Guernsey
Uruguay
Bermuda
Venezuela
Barbados
Colombia
Greenland
Norfolk Island
New Zealand
Papua New Guinea
Cocos (Keeling) Islands
Pakistan
Iraq
Iran
Bangladesh
Lebanon
Kuwait
Afghanistan
Bahrain
Yemen
Azerbaijan
United Arab Emirates
Qatar
Bhutan
Oman
Kyrgystan
Turkmenistan
Jordan
Saudi Arabia
Philippines
Vietnam
Turkey
Mauritius
Nepal
Indonesia
Gibraltar
Kiribati
Liechtenstein
Monaco
Guyana
Saint Lucia
Lao People's Democratic Republic
Myanmar
Macao
Montserrat
Maldives
New Caledonia
Niue
Saint Pierre and Miquelon
Pitcairn Islands
Solomon Islands
San Marino
Sao Tome and Principe
Saint Helena
Tonga
Tuvalu
Tokelau Islands
Samoa
Vatican City
How to Watch Netflix From Other Countries
---
Whether you travel abroad and want to watch your favorite Netflix movies and TV shows or are at home and want to access the Netflix library of other countries, the best way to do so is to use a VPN. There are no complex steps to figure out if you want to use a VPN.
VPNs offer a fast and stable way to access Netflix libraries of other countries. It is easy to use a VPN; you don't need to be a tech genius to figure out how it works. As indicated above, a VPN blocks your IP address, so Netflix will assume your traffic originates from the intermediary server you are using.
Does Netflix Allow VPN Use?
---
Although it is legal to use a VPN in most countries, Netflix doesn't permit it. It is a violation of the company's terms, but this hasn't stopped people from using it. Netflix has revealed that it uses several tools to detect people using proxies, VPNs, and other "unblocker" to access content from other countries.
It is important to note that you don't stand to face any legal penalties if Netflix finds out that you are using a VPN or any other "unblocker." Instead, you will get an error message that reads, "You seem to be using an unblocker or proxy. Please turn off any of these services and try again."
When you are using a VPN to access a Netflix library in another country, and you get that error message, it means that the "fake" IP address your VPN is using has been flagged. You can solve this by changing to another server. It is important to note that you are highly unlikely to experience this if you use a top-rated VPN.
Netflix continues to upgrade its systems to detect people who are using VPNs and other "unblocker" technologies. However, VPN platforms are always upgrading their service to beat the Netflix detection system.
The Best VPNs to Change Region on Netflix
---
Netflix has done an excellent job of upgrading its platform to detect many VPNs. So, to be able to get past the company's geo-restriction, you need a good VPN. There are many VPN services that work with Netflix, but not all deliver the same quality of service.
Before you subscribe to a VPN to access Netflix libraries from other countries, you need to ensure that it actually works. I suggest reading about the VPN service and checking out their provisions for getting past Netflix geo-restrictions. Many VPN platforms tell you about the number of Netflix libraries that they can give you access to.
Don't just accept a VPN company's marketing rhetoric; you need to see what other users have to say about the service, particularly if it works with Netflix. The ultimate test is to sign up for a free trial and see if it works.
ExpressVPN
---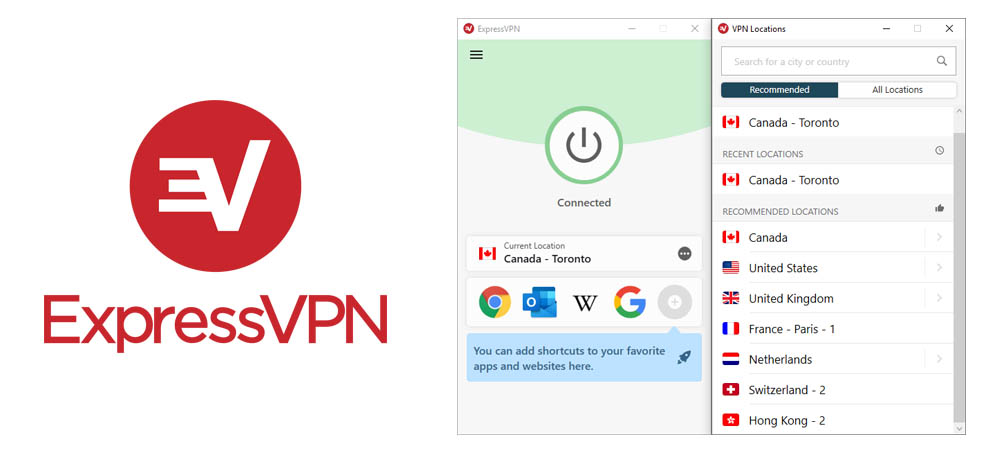 Visit ExpressVPN
ExpressVPN is one of the top-rated VPNs on the market today. This platform was launched in 2009 and continues to deliver on its promise of high-speed, safe, anonymous connection. ExpressVPN has more than 3000 servers spread out in 160 locations in countries across the world.
ExpressVPN is available for laptops, desktops, smartphones, smart TVs, and routers. It is compatible with Android, Linux, Windows, iOS, and macOS operating systems. This means you can connect it to any device. It is also available as a browser extension for Chrome, Firefox, and Edge.
ExpressVPN uses the AES-256 encryption standard. It offers different tunneling protocols, including OpenVPN, PPTP, IKEv2/IPsec, L2TP/IPsec, and Lightway. Lightway is an exclusive VPN protocol created by ExpressVPN that promises a super-fast, secure connection. This VPN supports up to five devices simultaneously.
Since ExpressVPN has lots of servers, it can provide access to Netflix libraries in up to 94 different countries across the world. With this VPN, you can watch movies and TV shows from Netflix libraries in European, North American, South American, and Asian countries.
ExpressVPN suggests the best server to choose for fast, uninterrupted streaming. You can get up to 25,000 kbps streaming speed on ExpressVPN servers. This means you can watch movies and TV shows in HD quality.
ExpressVPN does not just help you get past Netflix geo-restrictions, but it is also great for downloading Torrent. This VPN platform has a zero-logging policy. It also has a kill switch and supports split tunneling, which guarantees your privacy is protected. You can also count on 24/7 customer support.
ExpressVPN offers a 30-day money-back guarantee if you do not like its service. The pricing options for this VPN are $12.95 monthly, $59.95 for six months, or $99.95 annually.
NordVPN
---
Visit NordVPN
NordVPN is one of the most popular VPN platforms in the world. This VPN has been around since 2012. NordVPN boasts of 14 million users across the world. Although the platform suffered a data breach in 2018, it has improved its platform's security and regained users' trust.
NordVPN is available for desktop, laptop, smartphones, routers, and smart TVs. It is compatible with all the well-known operating systems like Android, Windows, Linux, iOS, and macOS. It is also available as an extension for Chrome and Firefox. You can connect up to six devices to one NordVPN account.
NordVPN has over 5400 servers in 59 countries across the world. This means you can access Netflix libraries from countries in Europe, Asia, South America, and North America. NordVPN doesn't sacrifice speed for security but gives you both. When you use this VPN, you will not experience any buffering or pixelated video thanks to its speeds of up to 83Mbps. NordVPN frequently updates its support for Netflix so you can enjoy your favorite movies and TV shows without any interruptions.
Some NordVPN servers provide obfuscation technology, which makes it nearly impossible for Netflix to detect that you are using a VPN. This means you won't get blocked. The platform also offers a double VPN feature for extra security. NordVPN even has P2P servers for downloading.
NordVPN uses the AES-256-GCM encryption standard. This VPN supports different protocols, including OpenVPN, IKEv2/Ipsec, and NordLynx protocol. NordLynx is an exclusive protocol built on the WireGuard framework, which promises a secure, light-speed connection.
NordVPN comes with a kill switch as well as DNS leak protection and keeps a strict zero-logs policy. It also comes with CyberSec, which protects you from malware. You can count on 24/7 customer support when you use this VPN.
NordVPN offers a 30-day money-back guarantee. This VPN is available for $11.95 per month, $59.04 annually, and $89.04 for two years.
Surfshark
---
Visit Surfshark
Launched in 2018, Surfshark is a relatively new entrant in the VPN market, but the company has managed to attract many users. Surfshark is a secure, hassle-free VPN. One of the things that set this VPN apart from all the others is the fact that it lets you connect an unlimited number of devices to one account.
Surfshark is available for desktop, laptop, smartphone, and smart TVs. It is compatible with Windows, Linux, Android, iOS, and macOS. This VPN is also available as an extension for Chrome and Firefox.
Surfshark has 1700 servers in 63 countries across the world. Surfshark gives you access to Netflix libraries from different regions, including Europe, North America, and Asia. While some VPNs work for just Netflix, Surfshark can unblock other streaming platforms like Amazon Prime, HBO, Hulu, and more. You can enjoy speeds of up to 49Mbps, which means no buffering. Surfshark also supports gaming and torrenting.
Surfshark uses AES 256-bit encryption as well as ChaCha encryption for Android. This VPN supports different encryption protocols, including OpenVPN and IKEv2. NordVPN also has some unique features like MultiHop, which connects you via servers in multiple countries and makes it nearly impossible for you to be traced.
Surfshark comes with a kill switch and follows a strict no-logs policy. Each Surfshark server has a DNS and is completely protected from leaks. What's more, you can count on 24/7 customer support.
Surfshark is available for $12.95 monthly, $38.94 for six months, and $29.04 annually. If you are looking for a VPN that is packed with features and affordable, this is a good choice.
How to Choose a VPN for Netflix
---
There are several factors to consider when selecting a VPN for getting past Netflix geo-block restrictions. One of the most important things to check is how many servers the VPN platform has and where they are located. A vast array of servers spread out in different regions globally makes it possible for you to access Netflix libraries from these regions.
Another thing to consider is speed. Netflix recommends an internet connection speed of 24Mbps for Ultra HD quality videos. You need to check that your preferred VPN platform can support this speed. You can check the speed of your VPN connection using Netflix's fast.com website.
While servers and speed locations are the two main features to consider when getting a VPN for Netflix, there are other things to look at like encryption, tunneling protocol, logging policy, customer support, and how frequently the platform is updated.
The three VPN providers above - ExpressVPN, NordVPN, and Surfshark – are some of the best for watching Netflix.
Choose a VPN That Works With Netflix
---
It may come as a surprise to you to learn that not all VPNs work with Netflix. Netflix's proxy detection system has gotten better over the years, and it can detect and block some VPNs.
So, it would help if you research thoroughly when you are choosing a VPN for Netflix. You need to check what other customers have to say about a particular VPN platform. Also, conduct your tests to be sure it works.
VPN Servers in Countries You Want to Unlock Netflix Series and Movies
---
One important thing to consider when choosing a VPN is whether it has servers in the country or region that you want to access the Netflix library. For example, if I am looking to access the Netflix library in Japan to watch a movie that is available in the region, it is essential to check and ensure that the VPN I choose actually has servers there.
Understandably, this can be a bit tricky. One way to check for which countries or regions certain Netflix content is available is to use this website; https://unogs.com/. This website gives you information about the TVs and movies available on Netflix globally, and it shows you which particular countries or regions the movies and TV shows are available in.
Fast Download Speeds That Can Support up to 4k Streaming
---
Have you ever been streaming a video, and it starts buffering or becomes pixelated? That's because your connection speed is not up to mark. Netflix automatically adjusts the quality of your video to match your streaming speed. This means if you have a fast connection, you will enjoy better quality videos. On the other hand, if your connection is slow, you will likely get low-quality videos and frequent buffering.
For high-quality videos like HD, 3D, or 4K, you need a really fast VPN with internet speeds of 25Mbps or higher. This guarantees that you can enjoy your movies and TV shows without any interruption. There are many tools online, like Netflix's fast.com, that allow you to check your internet speed.
Why Free VPNs Doesn't Work With Netflix

---
Many VPNs that are free come with limited features, including a bandwidth cap. This is why free VPNs may not work with Netflix or may be unstable if they do work. Generally, it is not recommended that you use a free VPN service. There's a saying that if a service is free, then you're the product.
Thankfully, there are many affordable VPN platforms that you can choose from regardless of your budget.
How to Change Location on Netflix - Conclusion
---
There's no need to wait until Netflix figures out it's licensing and make the same movies and TV shows available globally. Using a VPN is the only guaranteed way to enjoy Netflix content from any part of the globe.
The VPNs we've looked at in this article are some of the best on the market. We recommend that you do further research before choosing any of these VPNs to figure out how they work and which one will best suit your needs.