The Best VPN Services for Canada
---
We often get asked by people which VPN service for Canada is the best or which they should be using? The problem with answering this question is that there are literally hundreds of VPN service providers that operate in Canada. Since Canada's online surveillance is just as bad as that in other countries that are part of the Five Eyes (FVEY), it is important to make sure that the VPN service you use can't be compromised or co-opted. Fortunately, for everyone reading this article, we've narrowed your choices down to five VPN services worth considering.
Here are the 5 best VPN for Canada, detailing their cost, features and advantages:
1. NordVPN
Top rated VPN in Canada
---
We've used NordVPN extensively across the world and found it to be the best VPN service hands down. During our testing in Toronto, Canada, there were a number of things that stood out from all the other VPNs we were testing. The most apparent was the fact that service was fast, and that its privacy and security was foolproof, to say the least. We'll go into all of these features and more in the subsequent sections, needless to say, it is our top pick whether you want the best value for money or the best privacy for the price.
NordVPN Features
We are probably not the first to review or talk about how good NordVPN is, but there is a reason why it gets so many rave reviews. We'll go ahead and examine the best features for Canadiens are and why they should use it below.
SmartPlay
Now SmartPlay is one of those features that we are sure that Canadiens will use a lot. It is similar to smart DNS used by other VPNs in the sense that it helps users circumvent geo-restrictions. In a nutshell, turning it on means that you can use websites that would otherwise be restricted to Canadians. For instance, you'll be able to access Hulu and Netflix's US libraries or their libraries for South Africa for that matter.
Fast and Smooth
We tested NordVPN in Toronto and found that speeds, for the most part, were excellent and stable. We connected to servers in the UK, US, and even as far as Africa, and Asia, with consistent speeds. Downloads and uploads were terrific, with the only difference being that servers in places like Malaysia and South Africa throttled our speeds by as much as 32% on average. However, that is to be expected since these locations are farthest from Canada.
Very Easy To Use
If there is one beginner-friendly VPN, we'd openly recommend it would have to be NordVPN. Whether it is for Desktop or Mobile devices, the interface is a no-brainer. Furthermore, all the settings you'll need like leak protection and IPv6 are just a few taps away. Our only gripe is that NordVPN does not list cities in alphabetical order, but that can be circumvented by just searching for the city. Other than that, there is nothing wrong with it.
Yes! You can Stream Netflix
We were able to easily stream Netflix's US library and their library in Australia. It worked 8 out of 10 times. The only thing you'll want to do is to clear your computer's cache before firing up Netflix.
Security Features
NordVPN offers a myriad of security features including DNS leak protection and extensions for Chrome and Firefox. The kill switch feature is perhaps the most efficient and worked perfectly during our testing. However, more advanced features will require digging into the settings and turning them on.
NordVPN Servers

As of this writing, NordVPN has over 5500 servers in 60+ countries. Furthermore, all if not most servers use 2048-bit encryption to send and receive data. As a bit of a bonus, a single subscription supports up to 6 devices connected simultaneously.
NordVPN Support

Now there are few ways in which subscribers can get in touch with support. However, before you do, it is important to check out the company's expansive support library, which answers 80% of all questions. If you don't find your answer there, you can contact support via live chat, their forum or email. In our experience, answers came through quickly, and support was very good in terms of their eagerness to help us.
NordVPN Pricing

Exclusive deal
2-year plan
$3.71
per month
Save 86%
6-month plan
$9.00
per month
1-month plan
$11.95
per month
**The Pricing below is set to Canadian Dollars.
NordVPN currently offers a few different subscription levels. Unfortunately, there is no free trial. The monthly subscription starts at CAD 15.62 a month. There is also a 2-year plan which costs CAD 4.85 a month.
All plans are backed by a 30-day money back guarantee.
2. Surfshark VPN
A Low Price VPN Service in Canada
---
Surfshark VPN is a comparatively new VPN service that became operational in 2018. However, the company has worked hard to establish itself by providing Canadians in particular with competitive pricing, frequent discounts and a laundry list of security features. It's comparatively low price makes it a worthy contender, and in our experience, it isn't too short of the best out there.
SurfShark VPN Features
SurfShark isn't the most feature-rich VPN provider, but the features it offers are very useful. Below is a quick rundown of all the features and how they work.
CleanWeb
In a nutshell, CleanWeb is Surfshark's take on an ad blocker. It automatically blocks malware, phishing attacks and ads amongst a few other threats. Not only does it speed up your browsing experience but also ensures that websites don't track or record anything you do online. The feature is turned off by default, but it can just as easily be turned on.
Whitelister
Now, this is SurfShark's version of a split tunnelling feature. Users that turn on this feature can define which websites can bypass the VPN. For instance, you'll want to access your bank account directly and not via the VPN, so you can add it to the whitelist. You can also enable apps that you know are legit to access the internet directly like Windows Update and the Antivirus program that generally connects to the internet to download the latest definitions.
In our experience and during our time testing it, we found Whitelister to be very easy to use. So, just about anyone can start using it within a matter of seconds.
Locations
SurfShark allows users to customize their UI to include all the servers that they connect to frequently. The 'favorites list' as it is called allows you to toggle between the servers that are listed directly via the locations tab. Plus, the UI gives you the option to choose the closest as well as the fastest server.
MultiHop
The multi-hop feature is a lot like what other VPN services refer to as "Double VPN". The feature works by connecting you to two servers which double the encryption and makes it harder for even a determined government spy to track you down. You can, for instance, hop from your local connection in Toronto, by connecting to a server in Singapore and that connection then hooks up with a server in the UK, routing your traffic through two continents. While the feature certainly works to enhance your privacy and security, it also slows down your connection by between 25% and 75% depending on the servers you choose.
Supports Unlimited Devices
While Surfshark VPN has a limit on how many devices can be connected to a single VPN account, but you can have unlimited devices using the same subscription just not all at the same time. We were able to connect 7 devices all at the same time without an issue.
No Borders Mode
While Canadiens enjoy a nearly censor-free internet experience, there may be some websites that are blocked. Some websites, especially European gambling sites, will bar people with Canadian IPs from accessing their service. By turning on the "No Borders" mode, you can get around this restriction. However, in our opinion, there is little use for it, at least in Canada.
DNS & Leak Protection
Surfshark claims that servers users connect to have private DNS in addition to leak protection setup when using IPv4 stack. Fortunately, we were able to test this claim and found that there were, in fact, no leaks.
Camouflage Mode
The rather militant sounding "Camouflage mode" is ingenious in the way that it makes it appear as though traffic is moving through the internet normally.
When a user generally connects to a VPN, the ISP is unable to see their traffic, when that happens, it can make the ISP suspicious. When the Camouflage Mode is turned on, that suspicion is no longer a problem, because the ISP sees traffic flowing as normal even when connected to a VPN.
Surfshark Servers

At the time of this writing, Surfshark has a few thousand servers dotted across 63 countries. While it does not have servers in as many countries as Nord VPN for instance, it is also a cheaper service. Furthermore, during our testing, we found that the servers are fast and reliable with a 'no-logs' policy. Surfshark also supports P2P file sharing, which means Canadiens can share files using torrent and other means.
Surfshark Customer Support

Surfshark offers 24/7 customer support via live chat and email. The company has made an extensive library of information available complete with tutorials for newbie users should they run into issues.
Surfshark Pricing

Most popular
24 Months
$2.49
per month
Save 83%
1-month plan
$11.95
per month
12-month plan
$5.99
per month
**The Pricing below is set to Canadian Dollars.
Surfshark does not offer a free trial, but its pricing is amongst the lowest in the industry. Furthermore, the 30-day money back guarantee assures people that their money will not go to waste if they don't like the service.
The lowest tier pricing starts at CAD 3.33 a month with the 24-month plan. The 30-day plan is CAD 16.94 a month which amounts to CAD 203.25 a year. However, the year-long plan is around CAD 101.89 a year which amounts to CAD 8.50 a month.
3. ExpressVPN
Amongst the Best VPN Providers For Canada
---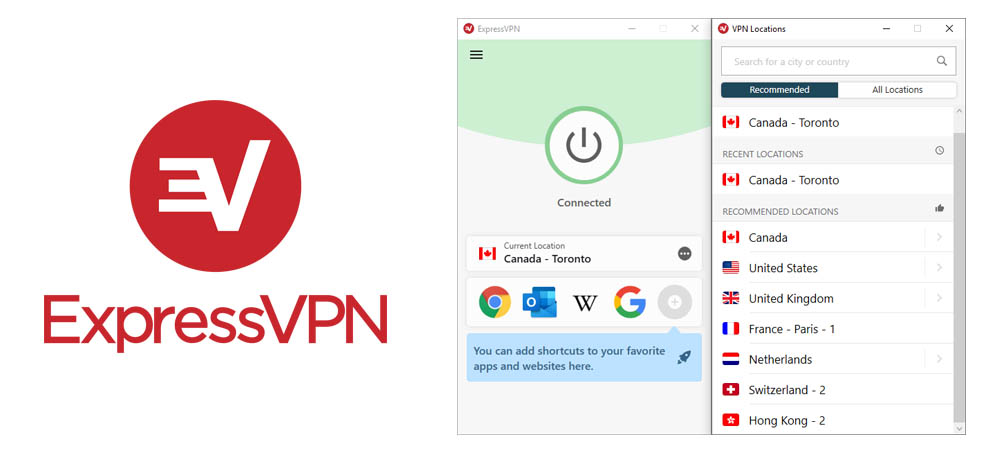 ExpressVPN is often touted as being the best VPN provider for Canadiens because it offers excellent speeds regardless of if you are using Fido or ordinary cellular 4G. While speed is one of the service's biggest selling features, most Canadians will enjoy the fact that it allows users to unlock and even unblock various streaming services like Netflix. It also has a feature set that makes it possible for regular people to dodge hackers, scammers and phishing attacks.
ExpressVPN Features
Express VPN is quite feature-rich so sit tight as we go into some of the unique ones below.
Great Speeds
Almost every review of the service, including ours, states that the speeds are the best in the business. When using it here in Toronto and connecting to servers in the UK, Singapore, and Australia, our speeds only took an average 25% hit. In our experience, that's excellent!
Apps for Android and iOS Devices
ExpressVPN has apps for both iOS and Android devices. However, these aren't you ordinary apps; they are fully featured while retaining a comparatively simplistic interface. While the applications are both fully featured, the one problem you'll encounter is that the apps for Android do not support OpenVPN. Now that isn't entirely a deal-breaker because it still supports other protocols. The iOS version, on the other hand, has no such limitation.
An App for Your Router
When was the last time we saw a VPN app for a router? It almost never happens, but it is extremely useful because once your router is connected to a VPN, your entire home is routing its traffic securely through it. Fortunately, ExpressVPN not only provides a fully featured app for routers but detailed documentation on how to set it up. While only a couple of routers are supported at present, we have heard that more devices will be added with time.
Excellent Leading Encryption Protocol
ExpressVPN uses nothing short of 256-bit AES encryption. The encryption protocol combines the AES 256-bit cipher with 4096-bit RSA key and SHA-512 HMAC authentication. While all of that is a mouthful, in a nutshell, it means that your traffic, even if intercepted, can't be decrypted.
Port Forward Secrecy
Port Forward Secrecy is an advanced feature that few other VPN services provide. The feature works by consistently changing the encryption key each time a user logs into the server. Users are assigned a new key each time, which is valid for that single session only. Furthermore, all data from previous sessions are erased. So, even if someone were to hack your browser, they wouldn't be able to access anything.
Kill Switch
Sure, there is nothing new about Kill Switch security. The above mentioned top two both have this feature, but it is how ExpressVPN implements it that makes the service stand out. While all traffic is stopped, when the connection drops, Express VPN also turns on what's called "Network Lock," which means that no data can flow from your computer to the internet, if there is a short lapse in the connection. The feature is enabled by default and is available across all devices except for iOS, i.e., iPhones, and iPads.
Split Tunneling
Split Tunneling allows users to choose which programs use the regular internet. For instance, you can have Windows update use your regular connection, while at the same time, you're streaming Netflix's US library. Having both simultaneous connections ensures there are no compatibility issues and no reason for users to turn the VPN service on/off.
Leak Protection
Even though all traffic goes through an encrypted server, there is always a chance that there will be a leak, also called a DNS leak. The leak reveals information regarding your online activities to the ISP. However, in Canada, you might not want your ISP to know that you're downloading movies from a torrent server (we don't advise this) or are possibly chatting with your Ex for that matter! Our tests showed that with leak protection, there were absolutely no leaks making it perfectly safe for use.
Tor Network Compatibility
Express VPN is compatible with Tor. It is a hard to find feature but an excellent one because it guarantees anonymity. All data that passes through a Tor connection is even invisible to a VPN server. Plus, ExpressVPN guarantees anonymity by running audits on their partners, namely PwC and C3, ensuring that they are also fully secure.
ExpressVPN Servers

ExpressVPN has 3000 servers in 96 countries. The company also relies heavily on virtual servers to ensure that a connection is always available when needed.
ExpressVPN Support

24/7 live chat support in our experience is only a few minutes away. Additionally, ExpressVPN has extensive support guides, FAQs, and setup how-to's in the form of videos.
ExpressVPN Pricing

Most popular
12 Months
$8.32
per month
Save 35%
1-month plan
$12.95
per month
6-month plan
$9.99
per month
**The Pricing below is set to Canadian Dollars.
ExpressVPN does not offer a free trial but a 30-day money-back guarantee that applies to all their packages. The monthly package starts at CAD 18.26 a month or CAD 84.02 every six months. Annual pricing starts at CAD 140.93 annually. If you want to save money, then go for the annual service option.
4. CyberGhost
---
It is one of the oldest VPNs in existence and also one of the most established around. Canadiens have been using CyberGhost since the very beginning, and while the service has had its low points, it is still considered amongst the best out there. Recent updates to the UI and software have made CyberGhost more user friendly than ever before.
CyberGhost Features
CyberGhost has not changed much in terms of features over the years. However, the company has improved its existing line of features tremendously, which is what makes the service stand out.
Smart Rules
Smart Rules, as the term suggests, allows users to define or customize aspects of the service like connecting to a VPN server as soon as Windows boots. Users can also define what applications trigger the VPN to connect when they are fired up. The same goes for times when you are connected to an unknown WiFi network. You can also add exceptions, i.e., apps that bypass the VPN service.
Torrenting
Anyone who wants to download or upload files will find this feature very useful. Not only is the P2P network fast, but truly anonymous. CyberGhost
reveals the number of users on each server and your proximity from them. The information helps you find the fastest server with the least load.
A Highly Secure Encryption Algorithm
CyberGhost uses the most secure encryption algorithm for connections to and from VPN servers. The AES256-bit encryption is the best in the business. So, even if your connection was in the rare instance intercepted by your ISP or a hacker, it would be undecipherable.
Wireguard Protocol
The WireGuard protocol feature is unique to CyberGhost, at least in our top 5 lineup. However, the protocol is only available to Linux users. The protocol uses the security of OpenVPN combined with the speed offered by IKEv2 for the best experience.
Kill Switch
The Kill Switch is a common feature, and CyberGhost's implementation of it is similar to others in our lineup. The service will turn off all internet traffic when the VPN is disconnected. However, the feature comes turned on by default, and users can't turn it off. Our only gripe with the feature is that it isn't available on mobile devices.
Split Tunneling
CyberGhost's Split Tunneling feature allows users to run two simultaneous connections. Apps can use both the VPN connection via CyberGhost and direct unencrypted, i.e., regular internet. While it isn't a rare feature, the fact that CyberGhost is said to make it more stable and easier to use makes it worth mentioning. Furthermore, we were impressed with how well the feature worked on Android and iOS devices.
Tor Compatibility
CyberGhost is compatible with Tor. However, to take advantage of the feature, you need to be connected to a VPN server that supports Tor and then launch the Tor browser. During our testing, we found that the service worked perfectly, with the only issue being that speeds were unstable. But that has probably more to do with the Tor network and less to do with CyberGhost's servers.
WiFi Protection
We, in particular, love the WiFi protection feature as it adds another layer of privacy on mobile and desktop devices. The feature kicks into action as soon as you connect to an unknown WiFi network like in a café. If you find yourself working in a coffee shop or mall often like most Canadiens who freelance, then this is a must-have feature.
HTTPs Protection - Security and Privacy
Automated HTTPs redirects is one of those unique features that are custom made for Canadiens, in our opinion. The feature works by automatically redirecting users to the HTTPs (secure) version of a website. Doing this saves users from unsavory and malicious websites that could steal personal information or install ransomware. However, the feature isn't yet available for mobile devices.
Router App
The router app allows for all connections through the router to be protected. The app is compatible with a myriad of routers, and there is a step-by-step guide on the company's website that should help most people set it up. During our brief time with the app installed on our DD-WRT router, we found everything to work smoothly. Perhaps the only drawback is that there is no way to use the internet directly without turning off the VPN app manually.
CyberGhost Servers

CyberGhost has around 7000 servers in 90 countries but the number of servers increases almost every year. A couple of these servers are specialized and meant for streaming services and torrenting. Interestingly CyberGhost is one of the very few VPN services with servers in China.
CyberGhost Support

Live Chat can be reached 24/7 and is free to use. However, if you can't reach someone via live chat or your issue isn't as urgent, the support ticket system works just as well. Speaking of live chat, it is available in German, English, and French.
CyberGhost Pricing

Best value
18-month plan
$2.75
per month
Save 79%
6-month plan
$7.99
per month
1-month plan
$12.99
per month
**The Pricing below is set to Canadian Dollars.
CyberGhost does not offer a free trial, but prices start at CAD 20.83 a month for the monthly package. The annual package is CAD 95.69 per year, which amounts to CAD 7.97 a month. However, users will save the most with the 3-year subscription, which costs CAD 131.35, for 3 years, amounting to CAD 3.65 a month.
5. Private Internet Access
---
Private Internet Access is one of the more popular VPN services around because it offers lots of value for what it costs. It is packed with a myriad of features, with new ones added almost every year. There is a lot to like about it, including the ability to unblock Netflix, excellent encryption, and a decent size network.
Private Internet Access Features
Private Internet Access offers a multitude of features. However, we'll touch upon the latest features and ones that people will use the most.
WireGuard Feature
PIA introduced WireGuard in late April 2010. The WireGuard feature is still new, but it combines the protection offered by OpenVPN with IKEv2 to offer the best experience. However, the most surprising is the fact that the feature is now available on Mac, Windows, iOS, Android, and Linux. The WireGuard feature worked perfectly during our testing, with slight noticeable improvements in speed.
Security and Privacy
Encryption and privacy features can be enabled with the click of a button. Users have a couple of different option types to choose from, which include AES-128, 256, GCM, and CBC. It also offers data authentication methods and RSA-2048-RSA-4096 handshake methods. You can also choose your connection type as well as set remote or local ports.
The MACE feature is perhaps our favorite because it blocks access to websites and domains that have malware, trackers, and ads. Privacy is further assured by PIA's own DNS, which reduces the instance of leaks.
Kill Switch Feature
The Kill Switch feature works exactly as intended as those of the competition. It drops the internet connection as soon as the VPN connection drops. However, unlike some other services, it works on both Android and iOS devices.
Support for Torrent
PIA supports P2P, but not just with a few specialist servers. It is possible to torrent from just about any location in Canada, with restrictions or limitations. The fact that PIA supports port forwarding means that incoming connections can be redirected by bypassing the ISP's NAT firewall. In our experience, all of this boiled down to a much smoother downloading experience.
Private Internet Access Servers

As of this writing, PIA has increased the number of servers to 12945 which are now in more than 75 countries across the world.
Private Internet Access Support

There is live chat support available 24/7. However, that's in addition to the ticket system and a vast database of how-tos and support literature.
Private Internet Access Pricing

Best value
2 months Free + Yearly
$2.69
per month
Save 77%
1-month plan
$11.95
per month
1-year plan
$3.33
per month
**The Pricing below is set to Canadian Dollars.
PIA's monthly plan is a solid CAD13.33 a month. The six-month plan slashes monthly prices to CAD8.02 a month. However, the annual subscription costs just CAD4.46 a month.
Questions & Answers
---
What is the best VPN for Canada?
A. From our testing, it is evident that NordVPN is the best in the country.
Are VPN legal in Canada?
A. At present, there is no law against the use of VPN services in Canada, which means it is 100% legal.
Is Hulu Available in Canada?

A. Unfortunately, Hulu isn't available in Canada. However, some of its original content is syndicated across Amazon Prime, CBC Gem and Crave. That said you can still stream the US version of Hulu, by using a VPN.
You can stream the US version of Hulu in Canada, provided that you use either Express VPN or Nord VPN. Both VPN services do a pretty decent job of unblocking Hulu in Canada. However, with Express VPN, you might have to switch through to a couple of different servers before you find one that works well. You will also want to delete all cookies just so that Hulu does not pick up on your IP from a previous session.
Hulu, similar to Netflix, works hard to block people from accessing the service via a VPN. IPs are blocked by the thousands each day. Fortunately, both Express VPN and Nord VPN, add more IPs than Hulu can block so there is always a chance that you can stream Hulu from anywhere in Canada.
We also tried accessing Hulu using Surfshark VPN's 'no-borders mode', but for some reason, we weren't able to get through to Hulu. In our opinion, it could have something to do with the way Surfshark VPN is set up to unblock websites. We also didn't have much luck with CyberGhost, which as it currently appears can't unblock Hulu in Canada.
Is Sling TV Available in Canada?

A. Sling TV is unfortunately not available in Canada. Even if you are an American who has a Sling TV subscription and happen to be visiting Canada, you won't be able to use it. However, like everything else in the world of technology, there is a workaround.
If you are a Canadian and would like to stream live TV via Slight TV, then you can do so using a VPN. We tested a few different VPNs to find which one does the best job of streaming Sling TV in Canada and found that both Express VPN and Nord VPN work perfectly. That said, it also worked with CyberGhost and other top VPN services we've tested and listed on this website.
It appears as though Sling TV does not actively block VPNs. However, the speed offered by Express VPN ensures silky-smooth streaming. We expressed no hiccups or freezes when streaming Sling TV via ExpressVPN. That said, if you're on a 5+ Mbps connection, then hiccups shouldn't be much of an issue anyway apart from the occasional dip in speed which is something that even the best VPNs suffer from in our experience.
Make sure to connect to a US server, before firing up Sling TV.
Is IPTV Legal in Canada?

A. It is perfectly legal to stream TV over the internet or IPTV in Canada. However, the lack of IPTV services leads many people to assume that it is illegal. The only legal issues associated with IPTV is something that service providers need to consider. Similar to regular TV, and cable, IPTV service providers, need to follow the provided regulation. The regulation outlines how many people can view a particular piece of content, the cost that is to be paid by service providers, and how customers can access the service.
The best thing about IPTV, unlike other forms of entertainment like cable TV, is that there is no limitation on the number of devices. Your device needs to be internet capable and have the IPTV app installed.
At present, there aren't as many independent IPTV service providers in Canada like they are in the US. However, Canadiens can access US service providers via a VPN, which too isn't technically illegal because there isn't a legal framework that outlaws the practice in any way.
Is Streaming Illegal in Canada?

A. No, it isn't. Streaming is 100% legal in Canada unless you are streaming illegal or pirated content. Usually downloading and streaming copyrighted movies from illegal websites and torrent sites is illegal. It is perfectly legal, on the other hand, to stream via services like CraveTV and Netflix. You only have to pay for the subscription, and with it, you get access to loads of TV shows and movies.
It is also perfectly legal to stream content via a VPN. So, you can use a VPN service to switch your region to the US or Australia, for instance, to stream the American or Australian version of Netflix's library. While Netflix actively blocks IP addresses the attempt to circumvent its IP firewalls, isn't technically illegal either.
Canadians should avoid downloading movies, TV shows and other content from websites which aren't authorized to sell or distribute that content. Piracy is against the law, and you could be fined several hundred dollars for streaming content illegally. If you are going to stream a show or movie from an unknown website, make sure to verify if they hold the copyright to it, before paying for it or downloading it for free. That's the best way to prevent getting into trouble.
What Are The Streaming Services Available in Canada?

A. At present Canada is being inundated with many new streaming services and platforms. The following streaming services are available in Canada:
Apple TV+: Apple TV Plus, only features original content. There are no re-runs of hit shows or any blockbuster movies. The current lineup is pretty thin, but they are adding a lot of new content almost every day. However, this isn't the best option if you want to stream popular releases.
Disney+: Subscribing to Disney+ gives you access to a broad library of movies, and shows produced by Walt Disney Studios, Pixar, Marvel Studios, Twentieth Century Fox, National Geographic and Lucasfilm. In total there are around 7500 episodes and over 500 films.
Netflix Canada: Most people are familiar with the service, so we don't need to go into it much. It's just that the Canadian library is a little thin compared to its American counterpart for some reason.
Amazon Prime Video: It is on par with rivals Netflix, with original shows like The Man in the High Castle, Jack Ryan etc. Amazon Prime offers a couple of shows and movies which are not to be found anywhere else which is what makes the subscription attractive to many people.
Crave: Originally, it was meant to give Bell TV subscribers a way to stream online. Today it has a pretty vast library of current and old HBO hits and shows from Showtime, with documentaries.
Is Torrenting Illegal in Canada?

A. Torrenting isn't illegal in Canada. You are free to share and download TV series, movies and documentaries or entire libraries of content which isn't protected by Canada's copyright law. However, it is crucial to understand that many countries have a clause in their law meant for copyrighted material and intellectual property in the case of Canada, it is the Copyright Modernization Act.
Canada, like many other counties, isn't clear about if torrenting is legal or if it isn't. So, it is difficult to know which content is shared or downloaded, can get you into trouble. Evidently, there is a grey area in Canada because there isn't a torrenting law, so to speak.
We can't tell you that Canada permits P2P file-sharing technologies or has forbidden it. All we can say that if you don't own the copyright to a particular piece of content, sharing it is going to be dangerous or at least you're in the grey area. That's also one reason why we recommend using a VPN for torrenting. You can check out the best VPNs for torrenting here.
What Is The Fastest VPN in Canada?

A. Over the course of several weeks, we've tested many leading VPNs in Canada to determine the fastest one. After comparing the results, we declared that NordVPN is the fastest VPN service in Canada. Thanks to a network of 447+ local VPN gateways, it is the fastest one around, with a truckload of features to complement a trustworthy service.
One of the most significant perks of NordVPN is its P2P friendliness, the use of double encryption and the fact that it can be used on multiple devices. Using the service across multiple devices does not decrease the speed nor the quality of the VPN. Plus, it is compatible with half a dozen popular platforms including Android, Windows, macOS, iOS, Android TV etc. They even have a browser extension for Chrome and Firefox.
NordVPN also offers excellent DNS leak protection and IP leak protection. So, if the service was to go down for some reason or you lost internet connectivity, your IP address isn't leaked. You can check out our entire rundown of the fastest VPN in Canada here. We strongly advise that you read the whole article before deciding on a VPN service in Canada.
What Is The Cheapest VPN in Canada?

A. We compared the prices of over two dozen top VPN services available in Canada and found Surfshark VPN to be the cheapest in terms of pricing. However, the service is also extremely reliable, with an excellent selection of servers spread neatly across all seven continents. Furthermore, we found Surfshark VPN to also be the fastest for its price bracket, and it comes with a pretty neat stack of security features along with a no-logging policy.
At present Surfshark VPN has servers in Vancouver, Montreal and Quebec. We've tested these servers and found them to easily unblock various Canadian websites, news channels, sports channels etc. Furthermore, Surfshark VPN can be used across an unlimited number of devices, so you can have one subscription for all of them. You can find out more about some of the lowest-priced VPN services in Canada, including Surfshark here.
VPN Reviews - Our Methodology Explained
---
One of the questions we always get asked is, how do we compare one VPN service against the other fairly? The problem with measuring and testing VPN services is that a lot depends on the stability of our internet connection at that time as well as where we are testing it from. That's why we make it a point to use a single internet access point, test all services on a single computer, one at a time, and use the same battery of tests for all services.
We start with a baseline test of our internet connection and note down its speed, latency etc. We then fire up the VPN service we are testing and connect to the nearest server. In our case, we're testing VPNs from our office in Toronto, Canada. The nearest server is in Toronto; we'll connect there and run a speed test 3 times and make a note of its average speed. What this tells us is exactly how much is the VPN throttling our internet speeds. All VPN services throttle internet speeds to some degree. However, the best ones have the least throttling making it possible to stream and browse the internet unhindered.
Once we've tested local servers, its time to test speeds across the border on US servers, European Servers, and Asian servers. Testing speed and latency across each gives us a pretty good measurement of the stability and average speed that the service offers.
Our team does not test every server. That's an important point we need to make because it is near impossible to test hundreds of servers literally if not more. Granted that the speeds of some servers are going to be better than others, but we have no way of knowing that. So, the tests carried out at random.
We also test for IP leaks, DNS leaks, and torrenting speeds using a similar methodology but on the same internet connection. That's why the margin for error during our testing is low to none at best. That said, your results may vary depending on a myriad of factors including your location and proximity from the server being tested. The nearer you are to the server the lower its latency will be because the packets have a shorter distance to transverse, which also results in better speeds.
Final Word
---
While Nord VPN is the Best VPN Service to use in Canada, there are other options, as you'll see from our lineup. Your goal as a user should be to choose a service you can afford, that's easy to use and offers the features that you'll use the most. That's why we've made sure to list all the best features, and what we think of them so that you can make an informed decision.