Best VPN in UK
---
Many people want to know which is the best VPN for UK despite the fact that the country is considered to be very open in terms of freedom of speech and privacy related data protection. However, the UK is infamous for its surveillance. The UK's surveillance, for the most part, is pretty hard to dodge or seek shelter from, which becomes especially complex when you consider the Investigatory Powers Act, aka Snoopers Charter. The act gives the government legal justification to monitor everyone's internet activity.
That's one big reason why most people reading this article will want to invest in the best VPN UK service. Fortunately, there are some excellent ones, ranked below in order of how good they perform.
How We Pick the Best VPN Providers?

Part of our selection process includes checking speeds, number of servers, quality of the connection, security features, and customer support. A service provider that ticks all the boxes is theoretically the best. 
Here are the best VPN Providers in UK, we factor in our personal experience with the VPN so that people know what to expect:
1. NordVPN - The Hands-Down Our Top Choice
---
When it comes to VPN services, NordVPN is the leader, and our testing in the full review proves it. Not only does their VPN service match the competition in some areas, but it beats them. NordVPN offers a couple of different features which helps it stand out from the crowd. Furthermore, they are not shy about adding new features, which do take time to fully grasp but nevertheless help protect your privacy in one way or the other that's why they are rated VPN best.
NordVPN Features
SmartPlay is a feature that is like smart DNS and can be effectively used to get around various types of geo-restrictions and unblock many different streaming services. Many people use VPNs to unblock region-specific Netflix libraries as well as Hulu etc. So, it makes sense that the best VPNs make doing it easy.
When tested in the UK, we found that NordVPN had better speeds across the board. Now either they upped the quality of their servers or somehow the United Kingdom has better internet. Either way users in the UK will enjoy faster downloads, streaming and upload speeds. Also server connection times are down by mere milliseconds.
User and Beginner Friendly
NordVPN is also amongst the easiest VPN apps for Mobile and Desktop platforms. You can connect to a VPN with a single click. Furthermore, all the settings you'll ever need from leak protection to IPv6 is just two clicks away. However, we wish that Nord would change city listings to alphabetical order, that will make searching for a server in a particular city easier and add another reason for us to tout it as UK best VPN.
Stream Netflix Like a Champ
We connected to a US server with the intention of streaming Netflix's US library. To our surprise it worked on the very first attempt. That's surprising because Netflix makes it a point to block VPNs actively and very aggressively. We were also able to stream Netflix's library in Australia and Japan. While it isn't necessarily a feature, we are sure that many people want to buy a VPN subscription to stream.
We appreciate the fact that NordVPN offers strong DNS leak protection for IP address, proxy extensions, extensions for Firefox and Chrome browsers, as well as kill switches security. However, using these features will require delving a bit into the settings to turn on/off each feature.
NordVPN Servers

NordVPN boasts of over 5500 servers located in more than 60 countries across the world. Additionally, it also offers 2048-bit encryption, and 6-devices are supported simultaneously.
NordVPN Support

Our experience and the experience that many people have reported with support has been good and it's another reason it leads our best VPNs rankings. You can get in touch with a representative via live chat, email and their forum.
However, the support library answers most questions and lists many useful How-to's that will help most users address the issues they are facing without having to reach a live support person on the other end.
NordVPN Pricing

Exclusive deal
2-year plan
$3.71
per month
Save 86%
6-month plan
$9.00
per month
1-month plan
$11.95
per month
NordVPN offers users a couple of different subscription options but no free trial. You can choose to opt for the monthly subscription, which is £9.20 per month or the two-year special, which amounts to £3.84 per month. The company also introduced a Three-Year plan, which amounts to £2.69 per month. The Three-Year special will obviously save you a few dollars a year.
Perhaps the best thing about NordVPN for first time users is that their purchase is backed by a 30-day money back guarantee. So, if you don't like it, you can ask for a refund!
Why is it The best VPN Service for the UK?
The primary reason why NordVPN is on the top of our list is that it offers the best speeds, coupled with a large selection of servers and excellent customer service. Plus most people in the UK should be able to afford the service's annual subscription because it is sensibly priced.
2. ExpressVPN
---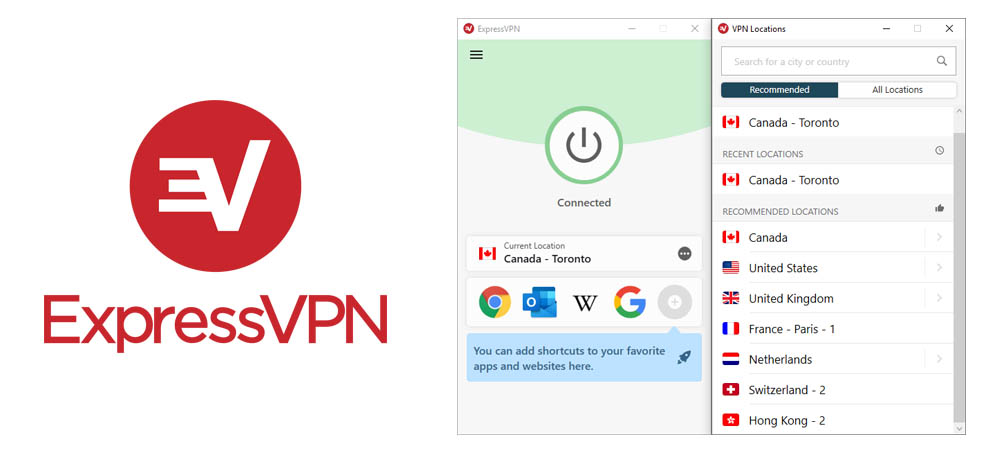 ExpressVPN is credited for offering the fastest internet speed compared to the competition. However, in our experience, speed is only one of ExpressVPN's leading features. We personally like the fact that using it allows us to unlock and unblock numerous streaming websites, and bypass monitoring by the ISP, while dodging hackers at the same time. Below is our full list of top ExpressVPN features.
ExpressVPN Features
Let's start with the obvious feature because many people will want to stream using their ExpressVPN subscription. We can safely tell you that ExpressVPN's speed is up there amongst the very best. Not only is downloading in the UK just around 5% lower than your internet's base speed, but uploading is almost as good as that. That means if you get around 50 Mbps, without a VPN, using ExpressVPN will net you around 47Mbps, which is remarkable considering how many points the traffic needs to be routed through.
We love the fact that ExpressVPN has fully featured apps that are available via Google Play for Android and App Store for iOS devices that are easy to use. Connecting to a VPN via the app is automatic, just say "Yes," and you are all set up. Most people will find that the Auto-Connect feature allows them to easily connect to the fastest server within seconds. In our case, we kept on getting connected to a server in Dublin for some reason. 
The only limitation we stumbled upon is that with Android and iOS, you're pretty much stuck with OpenVPN, which isn't necessarily bad since it is an industry-leading protocol, but it's always good to have choices. On iOS, though, there is no such limitation, and you can choose between OpenVPN and IPSEC/IKEv2. But the iOS app comes across as easy to use compared to the Android app.
The router app that ExpressVPN offers may not be unique, but it is certainly one of the only top VPN services to provide it. Most of all, installing and using it is a breeze. You can install the router app within minutes, and configure it so that all simultaneous connections that run through your router is passed through the VPN. The big plus here unlike individual apps, it's not limited to 5-6 devices. The app will support the max devices that the router can support. So, you can even have a dozen apps with a dozen simultaneous connections hooked up to the internet via the VPN.
Industry Leading Encryption
ExpressVPN uses 256-bit AED encryption which combines the AES 256-bit cipher with the 4096-bit RSA key, and the SHA-512 HMAC authentication. In other words, the key that's used to encrypt the data is needed to decrypt it, a measure which makes bypassing it near impossible.
Now, this is a feature that ExpressVPN offers amongst few other VPN services but makes using a VPN very secure. However, it is an advanced feature that continuously changes the encryption key each time your VPN client logs into a server. Each time you are assigned a new key, it is for that session only. Also, data from all previous sessions are instantly erased. The best thing about Port Forward Secrecy is if someone is able to hack your browser, they will not be able to access your current or previous sessions.
We admit that the Kill Switch security feature isn't new, but the way ExpressVPN has implemented it makes it a lot more effective. Unlike any other VPN provider the feature works by ensuring that your IP address and traffic to it is secure when connection to the server drops. ExpressVPN turns on what's called a "Network Lock," which means that nothing can go to and from the computer via the internet until you are reconnected. The downside to this feature is that you may experience a momentary lapse in your internet connection.
ExpressVPN enables this feature by default, but you can disable it, though we don't recommend disabling the Kill Switch security feature. The Kill Switch security feature is available for all devices except for iOS.
Split Tunneling is another excellent feature that makes ExpressVPN stand out. The feature works by allowing you to use both an encrypted VPN server for specific programs and use the unencrypted internet data for everything else. Both simultaneous connections can run side by side. Setting it up is easy, all you need is to choose which apps use the VPN connection. You can simply add and remove apps using the '+' and '-symbols. The ease switching features is what makes using a VPN like ExpressVPN so easy.
Running simultaneous connections allows users to get the best of both worlds.
Despite all traffic being pushed through an encrypted server, there is still a chance that there may be a leak i.e. a DNS leak. The leak will reveal much of your online activities to the ISP. In countries like the UK, you don't what your ISP to know what you're up to online. We ran a test to check how well the feature worked and it showed IPv6 blocked which means that requests from the ISP are being banned which makes using a VPN safe in the UK.
Tor Network Compatibility
ExpressVPN offers Tor compatibility. It is rare to find this feature in VPNs these days, but it offers anonymity, unlike anything we've seen. Almost all data that passes through your connection will be invisible even to the VPN server. Furthermore, ExpressVPN runs audits via their partners C3 and PwC to ensure that their servers are 100% secure.
ExpressVPN Servers

At present, ExpressVPN has servers in over 94 countries and across 57000 endpoints. ExpressVPN also boasts of numerous virtual servers which is why it is never difficult to find a server, and speed is guaranteed.
ExpressVPN Support

ExpressVPN VPN provider offers 24/7 live chat support. In our experience reaching support takes a couple of minutes. Also, once reached support answered all our questions. In addition to that the company provides support guides, FAQs and setup guides in the forms of walkthroughs and videos.
ExpressVPN Pricing

Most popular
12 Months
$8.32
per month
Save 35%
1-month plan
$12.95
per month
6-month plan
$9.99
per month
While there is no free trial ExpressVPN offers three subscription options. You can choose to pay £10.55 per month, or £48.55 per month but it billed every six months. Annual pricing is £81.43 a year. So, the longer you commit to the service the less you pay per month. Plus, the service backs subscribers with a 30 day money back guarantee. 
We always hoped that they would offer a free trial for new users who have no idea how to secure their data.
3. Surfshark VPN
---
Surfshark VPN is one of the newest players in this space having hit the market in mid 2018. However, since then the company has moved fast to establish itself as a highly competitive VPN service and holds its own against established players. Surfshark boasts of lower prices, and higher speeds despite having a much smaller fleet of servers compared to the big boys like ExpressVPN or NordVPN. If anything Surfshark is geared towards budget buyers, however, before you subscribe make sure to familiarize yourself with the features on offer.
Surfshark Features
Surfshark like competing VPN services boasts of many different features. Some features are unique to the service. We'll go through a quick rundown of the services' best features below.
CleanWeb has a built-in ad blocker, which means that you don't have to worry about malware and phishing attacks. Furthermore, you don't need to worry about ads muddying your browsing experience while enjoying pretty good speeds since ads are known to throttle speeds. The ad blocking feature also ensures that websites don't track you or record information, both of which are imperative to remain anonymous on the internet.
During our time using Surfshark, we discovered that the service consistently updates its database. So, new malware infection definitions and websites are added protecting you from the latest attacks. At present the service can detect over a million infected sites.
The CleanWeb feature is available on all leading operating systems, i.e., Android, iOS, Windows and macOS.
The Whitelister is a lot like ExpressVPN's split tunneling feature in the sense that you can define certain websites and IP addresses that can bypass your VPN connection by creating a comprehensive or brief "White List." The feature allows you to ensure protection from websites and apps that you are not sure are 100% legit. However, you can enable legit apps like Windows update to run like it always does. That means you can run simultaneous connections across the same internet. 
Most people using a public internet connection will find the tool extremely useful. However, using it requires knowledge of all the apps on your system, because you don't want to whitelist a malicious app by mistake, as it can expose your security.
The benefit of the Whitelist feature is that you can easily connect and setup network devices like printers and scanners, without having the traffic be moved through the VPN. It also eliminates the need for you to turn the VPN on/off each time you want to use the printer for instance or access a site you trust.
Surfhsark can easily be customized to suit a user's needs. For example, you can add servers you like or frequently use to your favorites list, and you can toggle between the servers on that list via the Locations tab. It is also possible to automatically choose the fastest or the closest server, though here too, you can customize and personalize things to ensure a better connection.
Surfshark offers what is called a double VPN connection via its MultiHop feature. The feature helps another layer of security and protection to the connection. The way this works is the Surfshark VPN client will connect to two different server locations, which are often in two different countries. That allows you to hide your IP address better, and that improves privacy by a large margin.However, it will mean that you don't get the fastest VPN experience. 
While using this feature will slow down your internet by as much as 25%, it is best used for when you are hypersensitive about privacy issues at your location. However, for most other people, it is overkill since Surfshark encrypts all single server VPN connections too. Though MultiHop is easy to set up, just click on the Locations tab, choose MultiHop on the top and then scroll down to choose a server pair.
Support for Unlimited Devices
Even though there is a limit to how many devices you can connect to with one VPN account, you can still use unlimited devices whith excellent download speeds. While this may sound confusing, the fact is that we were able to test this claim out by connecting up to 7 devices without a problem. We ran out of devices after connecting our smart TV, FireStick, gaming consoles and smartphones to the same account. The VPN service worked perfectly across each device.
Now depending on where you are located, there are a bunch of websites that might be blocked. Some countries block more websites than others. However, the No Borders mode helps you get back this and browse without any geo-restrictions. It can be used for everything from streaming to accessing so-called forbidden websites.
Surfshark claims that all server locations have private DNS as well as leak protection when it is using the IPv4 stack. We were able to test this leak protection multiple times, and it does work as advertised.
We love Surfshark's camouflage mode because it makes traffic appear as though it is moving along normally to avoid suspicion by your internet service provider. That way, you can browse without having someone being suspicious of your online activities.
Surfshark Servers

At present Surfshark has in excess of a thousand servers located in 63 countries which is fewer than the standard 94 countries on average across the top 2 VPNs in our list. Most of the servers are highly reliable and fast in our experience. Plus, they have a no-logs policy and support peer-to-peer file sharing.
Surfshark Support

Surfshark offers 24/7 customer support via email and chat. However, there is comprehensive support documentation and tutorials which should help most people who run into issues.
Surfshark Pricing

Most popular
24 Months
$2.49
per month
Save 83%
1-month plan
$11.95
per month
12-month plan
$5.99
per month
While there is no free trial Surfshark VPN is one of the lowest-priced services starting at £1.94 per month if you subscribe to the 24-month plan. The 30-days plan is £9.79 per month or £117.44 a year. The year-long plan is £58.87 a year, which works out to around £4.91 per month.
The company backs all subscriptions with a 30-day money back guarantee which has replaced the industry norm of a free trial. But this is the new norm across all leading VPN service providers.
4. PrivateVPN
---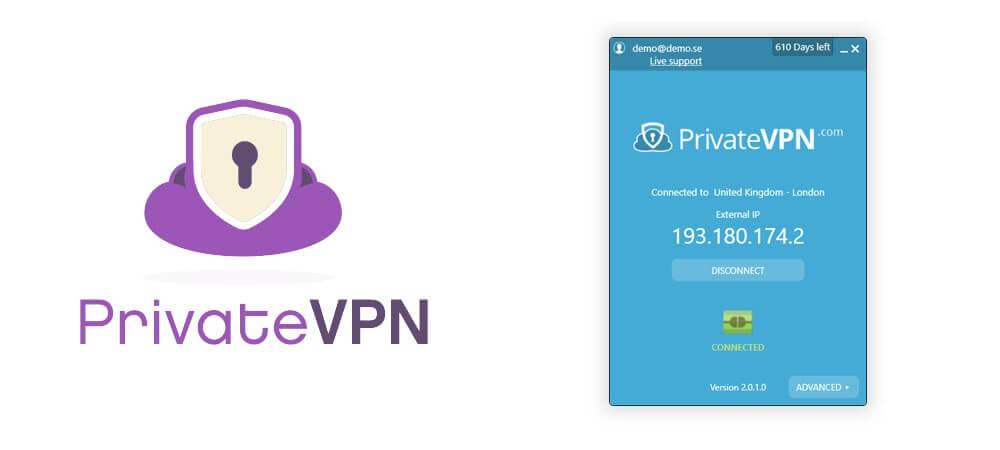 PrivateVPN is a 2009 small Swedish startup that provides one of the best VPN services that has the ability to stream Netflix libraries from most countries, boasts of good speeds, simultaneous connections and provides excellent encryption. The company has been criticized in the past for not offering as many security-centric features as the competition. Fortunately, the company has been able to overcome that with subsequent updates to the point where it is now among the top-ranked VPNs in the UK.
PrivateVPN Features
PrivateVPN may not offer as many features as rivals ExpressVPN or NordVPN for that matter, but the features they offer are some of the most commonly used. So, most of the features are something that people will use. Though it isn't nerd heaven like some other VPNs!
PrivateVPN offers the highest level of encryption available today. 2048-bit, coupled with AES-256, is near uncrackable even by the fastest computer on the planet today. It is the very same algorithm that's used by the military and government to keep their data safe from intruders. Users can choose from five protocols i.e. OpenVPN, L2TP, IKEv2, IPsec and PPTP.
One of the ways that cybercriminals are able to compromise computers is to count on users' negligence or forgetfulness. When your VPN connection drops, it's hard to tell when that's happened, and so you'll continue to browse the internet. That's when cybercriminals may be able to compromise your computer and start eavesdropping on what you're doing. Again here is why you need a VPN. The Kill Switch feature remedies that situation by killing your internet connection. So you won't be connected to the internet until your connection to the VPN server is reestablished.
The Kill Switch feature is enabled by default, so you don't have to bother turning it on.
Application Guard Feature
Now for some people the Kill Switch feature may not be enough. The Application Guard feature can help by allowing you to configure which application to close when the VPN connection drops. Consider the fact that you need a VPN to ensure secure simultaneous connections, and that's where this feature can be extremely useful. For instance, you can choose to close your web browser, or Skype chat so that your IP addresses aren't revealed. That way an application of your choosing that you know actively sends out private information can be stopped.
We tested PrivateVPN to see how well it worked with our uTorrent client. We downloaded and shared a file with an associate in the US. We also tested it with our colleague in the Virgin Islands. Our findings were remarkable, especially considering that the speed topped out at what we normally get without a VPN connection. However, after testing using our torrent client to download and upload files numerous times, we discovered that not all VPNs are optimized for P2P.
While other VPN services have been abandoning support for torrenting and P2P, after having come under fire by copyright agencies, PrivateVPN hasn't succumbed to the pressure yet.
Additionally, we were also able to stream on Kodi and the Amazon FireStick easily. Kodi offers free streaming with loads of Live TV channels. In our experience, both the FireStick and Kodi work very well with PrivateVPN. The service also works in the British Virgin Islands where you can easily stream US Netflix and the US version of Hulu.
PrivateVPN Servers

PrivateVPN, as of this writing, has over a hundred servers spread across 60 countries, including Australia, Canada, the US and the UK. They have plans to expand over to 94 countries. PrivateVPN also has a strict no-logging policy. So, your private data is safe.
While these aren't many servers when compared to rivals Express VPN and NordVPN, the fact that they are well-optimized means that speed is pretty decent. Also, connecting to them is quick and easy; we also didn't experience any dropped connections or other similar issues.
PrivateVPN Support

PrivateVPN offers customer support via Live Chat, support tickets and FAQs. The getting started section is loaded with tutorials that cover using PrivateVPN and configuring it across many different operating systems and devices.
In our experience, PrivateVPN's support isn't as good as the big boys. It takes a while to reach someone on the other end, and even then, they don't reply promptly to your questions. We experienced quite a bit of back and forth with the support person, and that led to getting our question answered in an astounding 30 minutes! It made us feel like free trial users.
PrivateVPN Pricing

Most popular
13 Months
$3.82
per month
Save 65%
1-month plan
$8.10
per month
3-month plan
$5.03
per month
PrivateVPN comes backed with a 30-day money-back guarantee but no free trial. We can say with surety that the money back guarantee is solid. A single month subscription costs £5.83 per month. The 3-months subscription package costs £3.69 per month, and the new 17-month subscription costs £2.08 per month.
5. CyberGhost VPN
---
CyberGhost is one of the oldest and most established VPN services around. It has been serving thousands, if not millions of people for several years. The CyberGhost client recently received an update, which has made it a lot more useful, less intrusive, with a new UI that's mainly influenced by Windows latest UI. Plus ur testing shows that download speeds have a measurable improvement and there are diverse IP addresses perhaps thanks to added servers. That is why they are one of the best when it comes to connection speeds and download speeds.
CyberGhost Features
CyberGhost VPN is one of the few VPN services at least in the top 5 that rarely ever change things or add new features. However, the features they offer are pretty solid and work exactly as claimed by the company. Furthermore, a money back guarantee assures you of having a good experience.
Your CyberGhost client will have a tab that reads "Smart Rules" when you click here, there are options to define the behavior of the client. You can customize things like if the client connects to a VPN server when Windows starts up or if you want it to launch automatically when you fire up a few select applications. You can also customize how it behaves when you are connected to an unknown WiFi network. Furthermore, you can add exceptions to which app's traffic you want to bypass the VPN connection. However, don't expect excellent connection speeds or download speeds with the feature turned on.
If you want to download or upload torrent files then CyberGhost should be your top pick. Not only does it have specialized torrenting servers that are designed for high-speed P2P, but they also help maintain your anonymity. All you need to do is to click on the 'for torrenting tab' to find all the optimized servers. There are servers in around 80 locations, and you can choose anyone you want or, better yet, the nearest one.
CyberGhost also tells you how many users are on each server, the amount of load on the server and how far you are located from it. All of these are helpful data since you can then choose a server with the least load and the best connections speeds, instead of constant trial and error. P2P servers can also be added to your favorites list, which makes quickly firing them up a single-click affair.
Most Secure Encryption Algorithm
CyberGhost boasts of offering its users the highest level encryption to protect their connections and data. The client and its servers use AES256-bit encryption, which even 50 supercomputers, capable of checking a billion AES keys a section would require forever to crack. Encryption ensures that even if your information was intercepted by a hacker they would be unable to read it. That's one of the best reasons to use a VPN!
We have not seen the WireGuard protocol or security used by other VPNs in our top 5 list. However, there is a reason for that, which is that this protocol is only available on Linux. Also, because it is a very new protocol that uses OpenVPN's security combined with IKEv2's speed, it is touted to offer users a better experience. Though it is unfortunate that Windows users don't get to enjoy it. Though during our testing turning it on does compromise connection speeds or download speeds.
The Kill Switch feature isn't unique to CyberGhost since all services on our top 5 list include it as a security measure. While the feature works similarly in the sense that it blocks all traffic to and from the internet, if the VPN connection goes down, with CyberGhost, it is turned on by default and can't be turned off. While you might think that is a limitation, in fact it is a security measure that we think is the right move on behalf of the company.
It is unfortunate though, that the Kill Switch feature isn't available on mobile devices and associated connections. While that does not mean you're not secure on a mobile device, or your IP addresses are exposed but it does mean you're not getting the max possible protection. We would imagine that a leading VPN like CyberGhost would make sure that the feature was available on mobile devices like it is with rival VPN services.
Split tunneling is not rare or hard to find, especially amongst the VPN services that rank in our top 5. However, each client's implementation of it varies slightly. In a nutshell split tunneling allows you to choose which programs access the internet via the VPN and which access it directly. That way you can run simultaneous connections. For instance, you won't want your online banking app to use a VPN, but instead, want Skype messages to pass through a secure connection. That way you have two simultaneous connections working at the same time. 
The reason we mention the banking app is that your bank may not allow you to access your account if you're doing so from another country or region. Plus, if the region from which you are accessing your bank account keeps changing the bank might block your account to secure your data. 
The best thing about CyberGhost's split tunneling connections or the simultaneous connections feature is the fact that it works perfectly on mobile and desktop devices. While it isn't as seamless on mobile devices, it is still one up over the competition that does not offer this feature on mobile devices. So, your mobile devices' IP addresses can be selectively protected when you use a VPN.
CyberGhost is fully compatible with Tor. However, to take full advantage of the 'Tor over VPN' feature, you'll need to connect to a VPN server first, then launch your Tor browser. We tried it multiple times and it worked perfectly. However, we'd hope that CyberGhost irons out their process and makes it similar to how NordVPN handles 'Tor over VPN.' In our opinion, there shouldn't be the need for a Tor browser to access the Tor network so as long as CyberGhost connects to the Tor network. Furthermore, your data is  protected with the services' no-logging policy when on a tor network.
Speaking of no-logging policy CyberGhost also offers an extra layer of security via its WiFi protection feature on mobile and desktop devices. The feature works by launching as soon as you connect to unknown or certain types of WiFi networks. The feature is useful for people who often find themselves working from coffee shops with unsecured public WiFi but want their data protected. 
CyberGhost has the feature turned on by default. However, it can be turned off, especially since it can get annoying each time you pass through different WiFi connections without any intention of using it.
CyberGhost also offers automated HTTPs redirects connections, a feature that will force you to connect to an HTTP enabled website making it one of the best features offered by CyberGhost in our opinion. So, using it means you are visiting only the secure version of any website with data protection in place. In our experience, it helps protect you from malicious attacks that could otherwise be launched by unsecured websites. That said, it is ideally suited for times when you want to buy something online and want to make sure that your connection is secure. It also works when streaming BBC iPlayer.
Another notable feature of CyberGhost is the router app which allows simultaneous connections to be protected. The router app is compatible with many different routes, and you can manually configure it with your settings. CyberGhost has a step-by-step guide to setting up the app on their website. However, there are different guides for different types of routers, so you'll need to search for the right one for your device.
We have a DD-WRT router and the tutorial worked perfectly to set up OpenVPN on it, which allowed us to test simultaneous connections. Alternatively, you can purchase a FlashRouter that has CyberGhost already installed on it. That way, you don't have to configure it. Most people who are new to VPNs or aren't tech nerds will probably want to go the FlashRouter route. The best thing is that configuring the router means that  your android and ios devices are automatically protected.
CyberGhost Servers

CyberGhost has over 7000 server locations across 90 countries. They also have specialized servers for torrenting and streaming. Unlike some other VPNs, CyberGhost also has routers in China, in addition to the UK, US, Australia and most parts of Europe.
CyberGhost VPN Support

Customer support can be contacted via Live Chat 24/7 which is free. The company also has a support ticket system, which, in our experience, responds promptly. Interestingly live chat is available in French, English and German, which is unlike many other VPN services that have made it to our top 5 list.
CyberGhost VPN Pricing

Best value
18-month plan
$2.75
per month
Save 79%
6-month plan
$7.99
per month
1-month plan
$12.99
per month
No free trial but CyberGhost pricing is £11.99 per month for those who want to be billed monthly. The annual pricing is £55.08 per year, which brings the per month price down to a sensible £4.59 per month. A 3-year subscription will save you the most money at £75.60 per 3-years, which amounts to £2.1 per month.
Questions & Answers
---
What is the best VPN to use in the UK?
A. Based on our testing, we found ExpressVPN to be the fastest in the UK. However, it is also the most expensive service in our lineup. If you want value for money in terms of speed, we'd recommend NordVPN. They have numerous server locations but no free trial. That said you will enjoy excellent data security and download speeds. 
Is VPN legal in UK?
A. Yes! VPNs are perfectly legal to use in the UK. At present, there is no law in the UK that forbids the use of VPNs or prevents it. However, we strongly advise against using a UK based VPN service because, by law, they (VPN services) are required to provide information to intelligence agencies and law enforcement. So, your security can't be guaranteed. 
Final Verdict- Which is the Best UK VPN?
---
In this roundup, we've listed the best VPN for the UK that you can find. All servers offer decent speeds, albeit some better than others. The same goes for the number of servers and other variables that matter to VPN users like simultaneous connections. However, NordVPN, which is our top-ranked VPN service, offers the best value for money. That said, those who want speed will do well to choose ExpressVPN, and budget buyers will probably feel that SurfShark offers them the best bang for every quid spent!