The Best Anonymous VPN
---
The internet has never been about security, privacy, and censorship. Initially, set up by the military to communicate with each other and store files, the internet's security was never an issue until it went public. Since the infrastructure of the internet was never built with security in mind, all the security tools and devices later implemented were done so as a layer above the fundamentally insecure internet. That's why if you're using a VPN service, you are trusting them, i.e., the VPN service with your privacy. A malicious or loosely implemented VPN will not only compromise your data's security, but they could even mine it. Countless cases of shady and often free VPN services selling profile data of their users just goes to prove our point here. So, you always want to make sure that you're using a service that can be trusted.
So, which VPN services can be trusted to keep your internet activity private? Well, there are three that we've tested, currently, use and would highly recommend. We go through each service and why we trust them over all others.
How Did We Evaluate Each VPN Service?
---
The purpose of this article is to find a VPN service, which was secure and which you could trust. To establish that trust, each VPN service needs to tick a couple of boxes. Services that tick all of those boxes are considered ones that we can recommend.
Below is a list of what we looked at during the evaluation process:
Does the VPN service retain and save logs? This is one of the most important questions because if the service does keep logs, the timestamp can be matched with the IP address, which is then connected to the user's service. So, theoretically, this information can make it easier to track what a particular user was doing.
Another important box which should be checked is the jurisdiction of the company. If it is in one of the five eyes, then it is almost certain that logs are maintained and information is shared with the government. However, some VPN services have managed to find their way around it.
What tools are used to monitor and address the abuse of the VPN service?
How many virtual servers are used in addition to physical servers? Generally, a 1:3 ratio is excellent.
Does the company take steps to identify and monitor an active user if they receive a court order?
Does the service allow file sharing or P2P clients?
What forms of payment do they accept? Do they accept cryptocurrency?
How secure is their most secure encrypted connection?
NordVPN – The Ultimate Anonymity Protection
---
It is common knowledge amongst tech enthusiasts like us that NordVPN is the best service around. In addition to reading the full NordVPN review, you should also read our Best Android VPN article, Best VPN Service and Fastest VPN to get a fuller picture of why this service has consistently made it to the top of our listings.
Now in terms of privacy and security, the most significant selling point for NordVPN is the fact that they don't keep any logs, timestamps or anything else. So, no third party can trace users, and that information cannot be purchased either. Operating in Panama means that they are in a jurisdiction with no data retention laws, so they aren't legally obliged to keep logs. Plus the company has a policy for not sharing information with any third parties regardless of the circumstances.
NordVPN does not use any monitoring tools. However, users are urged not to use the service for any kind of abusive activities. That said the company ignores all notices it receives for infringing upon copyright laws since they don't promote or host torrents or copyrighted content. The P2P servers are based in countries where there aren't any data retention laws.
Court orders received by the company have to first comply with Panama law. If it does comply the company has nothing to share because no logs or any other information is kept about users. Further security and anonymity are ensured as the service accepts payments via cryptocurrency like Bitcoin which in addition to regular forms of payment. That said there is no link drawn between the payment information used by users and their account activity. The company urges users to use the Double VPN feature for the best security in addition to AES-256-CBS encryption.
It is these and other features which lead us to recommend and list NordVPN as the no.1 best service for your privacy. But there are others!
ExpressVPN – The Offshore VPN Company
---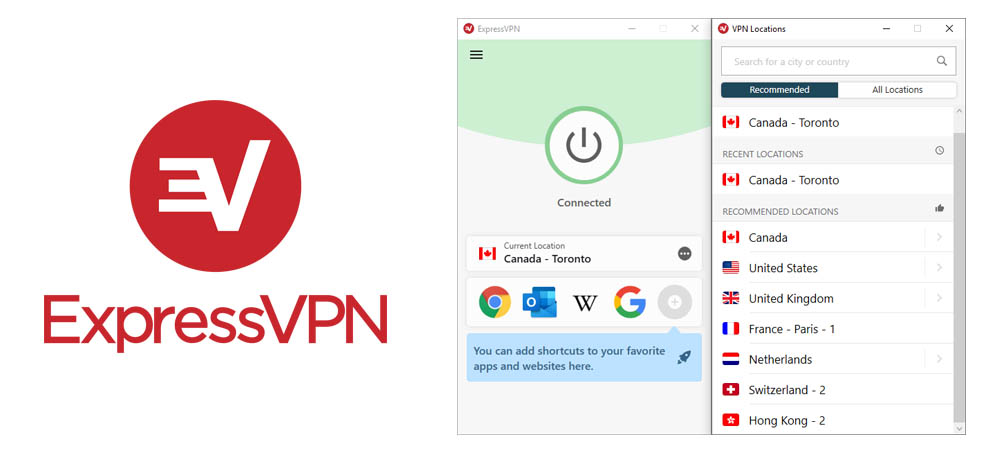 ExpressVPN is amongst the best VPN services out there, and you can read the full ExpressVPN review for information regarding speed, service quality, etc. Here we will focus on its privacy and anonymity features of which this service has many. It ticks the majority of the boxes we listed earlier, which is why this is our no. 2 pick.
Now for starters, the company is based in the British Virgin Islands, a jurisdiction which does not require that VPN services keep logs. Plus, it isn't part of the so-called "five eyes" so we are pretty confident that they won't share anything with the government of your country. That said we don't advise that you abuse the service as that only results in the service becoming worse for everyone.
ExpressVPN offers some of the best encryption features which include the use an AES 256-bit cipher using a 4096-bit RSA key and an SHA-512 HMAC authentication. It is by far the highest-level encryption you'll find and is unbreakable while offering excellent speed. The service also supports Perfect Forward Secrecy, which is used through the Diffie-Hellman key exchange.
Users can also choose which VPN protocol to use. The available VPN protocols include OpenVPN UDP, IPSec/L2TP, OpenVPN TCP, and PPTP. When you have "Automatic" enabled, the app will choose the best VPN protocol, which is based on your network settings. Though during our testing, we found that in the majority of cases, it will select OpenVPN UDP. If you are having connection issues, this is the best choice. Though PPTP and L2TP offer the best combination of speed and performance, these technologies aren't as ironclad as OpenVPN.
Like all anonymous VPNs that strive to keep your internet activity private ExpressVPN also supports P2P clients. Which means that you can download files using torrent clients without ever exposing your real IP address to seeders or the ISP for that matter. So, if you happen to be a Canadian, using ExpressVPN will mean you will not receive a legal notice from your ISP with the possibility of being fined for downloading copyrighted content. That said we highly advise against downloading copyrighted content regardless of if you are using a VPN service. That is not what the service is meant to be used to do.
Some of the most noteworthy anonymity features of the ExpressVPN include the Kill Switch. The kill switch feature is a sort of network lock, which prevents your data from leaking out by blocking all traffic if the VPN connection to the server drops. So, you continue to remain anonymous regardless of what happens. The feature is available for Windows, Linux, Mac OS, and supported routers. However, the one thing you need to bear in mind is that this feature isn't turned on by default so you'll have to turn it on manually.
The company also provides users the option to pay for the service using Bitcoin via BitPay. We wish that the company would support other cryptocurrencies but for now BitPay a service that many VPN companies use is mainly limited to Bitcoin. Though we have heard rumors that ExpressVPN may be rolling out a couple of other cryptocurrency payment options in addition to traditional payment options like PayPal, Credit and Debit cards.
The only drawback with ExpressVPN is the price. If it weren't amongst the most highly priced VPN services, we'd openly recommend it to everyone. However, if you don't mind paying slightly extra, it is worth considering the annual subscription.
Private Internet Access - The No Logs Ambassador
---
Private Internet Access has been around for quite some time now but has established itself as being one of the most privacy oriented VPNs around. Even though we'll focus on the service's privacy-oriented features, you can read our full PIA review before subscribing to the service. Incidentally, PIA also made it to our list of best Android VPNs.
The service boasts of not logging any traffic, sessions or any other type of user data. We know from experience using the service and communicating with them that they have worked hard to improve the service. We've seen immense improvements in their privacy and security features; something's that reflected in their Terms of Service. Plus, we know of no known instances of users' credentials being leaked.
The drawback we see is the fact that PIA operates out of the United States. The US has a mandatory data retention law. The company argues that after exploring several countries with their legal team, they found that the US still offered the best privacy based VPN. But we still don't have much confidence in the company's statement. However, the US does have a pretty strict user protection law, which means that the company has to abide by its privacy policy and which states that they don't log any information.
PIA says they scrutinize and validate legal requests for information. But even valid requests are of no use because they don't store any information that third parties can use. However, they do block IPs and ports when required to mitigate abuse.

The other good thing in terms of privacy and security is that the service isn't discriminatory when it comes to the type of traffic that passes through its servers. Additionally, people can further protect their privacy by subscribing for the service using Bitcoin or Ripple. These are payment options in addition to traditional options like PayPal, Google Play, CashU, credit/debit cards OKPay, etc.

Finally, the fact that PIA offers an array of encryption options from AES-128 to RSA2048 and SHA is why it has made it to our list. However, if the company was not based in the US, we'd be more confident listing it higher up on our top 3 list. That said this isn't reason enough to bypass an otherwise pretty decent and affordable VPN service.
Conclusion
---
One of the questions we always get asked is why do we recommend only a certain often a small number of services when there are literally dozens of VPNs out there. As mentioned early on in this article, there are a number of boxes that each VPN service needs to tick for us to even consider it and hence make it to our shortlist. Ironically despite VPNs being used for anonymity and often called anonymous VPNs, the fact is that most of the services we've tested don't do a good job of protecting your privacy or internet security. The free services and even a few paid ones sell your data to third parties. That is obviously a breach of your privacy. Plus the features they boast of do not work as advertised, which is a breach of users' trust.

The definition of anonymous VPNs is that they should be anonymous in every way. We should be able to bet our reputation on the VPNs that we recommend, so we take this very seriously. The top 3 anonymous VPNs are ones we tested, trust, and consequently, bet our reputation on them being anonymous. So, any one of these should help you stay anonymous online.