Best VPN for China: Securing your Connections
---
You will never find it surprising to know that VPNs are very popular in China. Aside from it's famous Great Wall of China, there are many more walls that restrict the people from this country to explore more, especially online. If you are one of the residents of China, this blocking will appear to be normal for you. But if you are someone who just visited the country for leisure or work, you will find their restrictions too much.
For the same reason, people are looking for ways to resolve these blocking issues as much as possible, and this is where they discovered the best VPN for China. With this software, they can visit sites that are blocked by their location, stream contents anywhere in the world, and keep their privacy as they get around online.
The number of people who are using the best China VPN to stay away from the state's strict policies about online content is rapidly increasing. With the software, their access online is not limited, and they can connect with the rest of the people across the globe using the Internet.
But there is one problem when it comes to using a VPN for China – the country is not happy about it. Various steps have been made by the government to ban and stop the use of VPN, but there are no clear details of the possible punishment for using unauthorized software. Despite this treat, VPN providers are still selling their services to the people within China.
VPN Providers

It is not a secret to the world that the government of China is controlling the access of its citizens to the outside world through the internet. Multiple websites and online servers that can be found outside its borders have been blocked in China like Google, Gmail, Facebook, Twitter, Skype, Netflix, YouTube, and many more. The government is utilizing a combination of legislative actions and advanced technology, which is also known as the "Great Firewall of China." The Chinese authorities are using the Great Firewall to limit the online access of their residents and visitors.
The great thing is there is a solution to this concern if you are residing in the country or simply visiting it for a few days. There is a tool that you can install to your devices, and it will allow you to access blocked websites and restricted content inside the country. You can connect to the outside world while keeping your privacy and identity. And that tool is Virtual Private Network or commonly addressed as the VPN.
With the help of a VPN, your internet connection can be encrypted, your online activities can be covered, and you can be safe from the radar of various government agencies and other prying eyes of the country. A VPN can easily appear like you are browsing from a different part of the world like Hong Kong, US, Canada, etc. and you will earn access to different blocked content and sites within China.
This time, we will talk about the top five VPNs with multiple servers that are perfectly working in China. If you have read some reviews about the best China VPN, you may have heard them.
ExpressVPN
---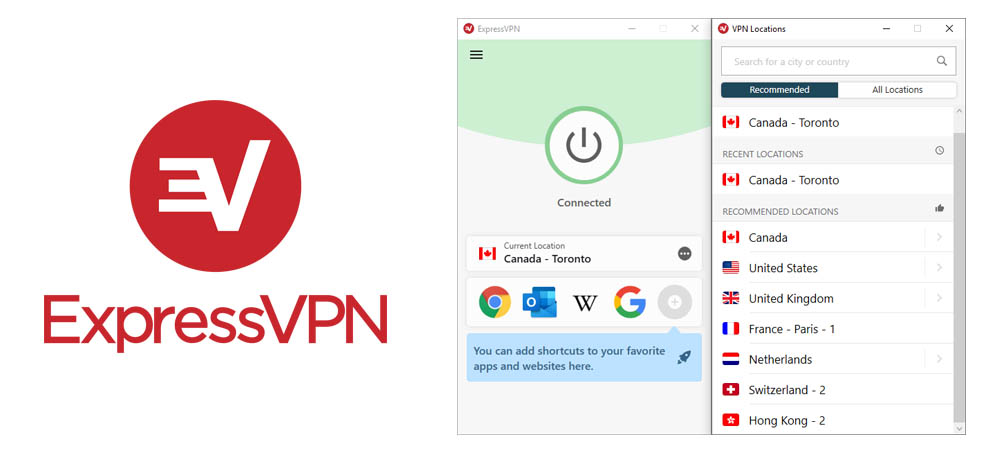 This is considered the best China VPN that you can use. What makes it the best? Here are some of the factors that you should know.
Security – accessing the blocked website of the Chinese authorities can be very risky. But the ExpressVPN can guarantee that your online browsing will be kept protected all the time. This VPN can hide your IP addresses, and it strictly implements the no-log policy. This means that if ExpressVPN is questioned by the government spies, they cannot reveal any sensitive information about its users.
When a leak or loss of connection happens as you get around online while connecting to one of their servers, ExpressVPN features a built-in automatic kill switch that will promptly disconnect you from the internet. You can keep your identity protected all the time and enjoy simultaneous connections across your devices.
Price – you don't have to spend much so you can keep connected to the outside world. With ExpressVPN, you can enjoy browsing blocked sites and content for $8.33 per month, which is billed annually by the company. If you want a shorter subscription or you want to pay in every month, you should expect the price will go up. ExpressVPN also comes with a 30 days money-back guarantee so you can use their service with ease. If you find that the VPN is not for you or it does not work well in China, you can easily ask for a refund as long as it falls within the first 30 days of your usage.
Customer Service – since not all VPNs are working in China, ExpressVPN wants to maximize its use for its users in the said country. They offer excellent customer support so they can help every user in getting the most out of their VPN servers. The fastest and easiest way to stay connected with the customer service of ExpressVPN is to download their application, and you will have access to their 24/7 live chat. If you have any technical difficulties or other concerns about the service, their team is always ready to assist you.
Does ExpressVPN work in China?
Yes! ExpressVPN works in China. With the help of this service, you can easily access blocked websites and restricted content across the globe. Though the country is using the Great Firewall of China to limit the online freedom of its residents and visitors, you can easily bypass this firewall with the help of ExpressVPN.
One important thing that you just need to keep in mind is the country has strict regulations about anti-pornography and anti-prostitution. Keep away from these sites, so you enjoy using your VPN while inside China.
NordVPN
---
NordVPN has constantly been improving its service since 2017. The company is working its best so their servers can work well in China, and any residents or visitors can enjoy their online activities. To make their website more friendly to the people of China, they even created a Chinese version of their site so it can be easily understood by Chinese as they sign up for their services. For the payment of their services, NordVPN is accepting Alipay and UnionPay, which are very common payment methods in China.
As the Great Firewall of China blocks different sites across the globe, it is also blocking VPN services. Because of this, residents in China cannot access the VPN websites, and NordVPN's official site is one of them. But the company is using an alternative domain nord-cn.org that can be checked by anyone in China. Using this alternative site, you can signup and subscribe to one of their services and enjoy all the benefits of a VPN service with a 30-day money-back guarantee.
Does NordVPN work in China?
While many VPN services don't work in China, NordVPN is doing an excellent job with unblocking sites and giving access to restricted content in the country. With the help of a VPN, you can visit and use websites like Facebook, Google, Twitter, YouTube, Netflix, and many other popular companies. You can use NordVPN to get important information across the globe and stay updated with your families and friends who are outside the borders of China.
Surfshark
---
It's not so long since Surfshark has been available in the market. Despite its late development in 2018, it is considered as one of the most promising VPNs today. Surfshark offers a wide network of physical servers around the world, outstanding privacy and security services, and multiple offering of extra options – all come at a competitive price. You can safely say that this is a premium VPN that will never break your budget.
For residents and visitors of China, Surfshark provides great connectivity online, but not the same level of services that can be offered by the most popular VPNs in the country.
Features of Surfshark:
Encryption protocols: IKEv2/IPSec, OpenVPN TCP, OpenVPN UDP, "Shadowsocks."
Several servers and locations: it offers more than 800 servers from more than 50 countries.
Simultaneous connections: You can enjoy unlimited simultaneous connections.
Server locations changes: Unlimited.
Applications: Windows, Android, Mac OS, iOs, Apple TV, Linux, FireTV, Xbox, Playstation.
Trial period or guaranteed money back: It offers a free trial period of 7 days and a 30-day money-back guarantee.
After-sale service: It has a 24/7 seven customer service system available email or lives chat.
Extras: CleanWeb (ads and malware blocker), Kill switch, Whitelister (allows certain applications or websites to ignore the VPN), NoBorders (avoid restrictions), Multihop (connect to multiple countries at the same time).
Tunnelbear
---
This VPN service is provided by McAfee, a leading cybersecurity company. With this distinction, you may think that this option will offer you a superb VPN that is capable of anything. But that is not always the case. While there are some good things about Tunnelbear, it cannot give you the same service as with the leading VPN providers.
Does Tunnelbear Work in China?
Tunnelbear is working using some of its servers and 256-bit AES OpenVPN encryption. But if you try to use their service within the borders of China, the Great Firewall will block the server locations, and you will see a notice that will tell you that you are connected to a proxy server. With this, the answer is obvious. Tunnelbear is not working in China.
IvacyVPN
---
Out of many VPNs that are not working in China, you will find IvacyVPN as one of the successful service providers that can bypass the Great Firewall of China. Out of all the restrictions of the country when it comes to VPNs, IvacyVPN can do its work perfectly at an affordable price and a 30-day money-back guarantee.
Does IvacyVPN Work in China?
Yes! It can work well in China. But here is an important thing that you should know about this VPN. Downloading the app must be done from a different site. As soon as you have the app on your device, you can subscribe to IvacyVPN and enjoy simultaneous connections on your multiple devices.
VPN Blocking in China
---
If you have visited China before 2014, you might have experienced that using any VPN will do a good job with unblocking sites and content on the Internet. But this freedom has changed during the end of 2014 when the country's Great Firewall has improved its sophistication, and it can effectively detect VPN connections. But then, any software has been blocked or throttled.
Today, the Great Firewall continues to work better so it can detect unauthorized activities. Because of this, only a handful of VPNs can work in China, and they are using special technologies that can hide their identity. Only the best VPNs for China can survive the Firewall, and they are reliable, fast, and seamless.
Using a VPN in China is never a simple thing if that's what you have in mind. If you are looking for a VPN, make sure to find a good one that can successfully hide your identity and allow you to break the different walls of restrictions.
VPN China Reviews
---
In this review for the best VPN for China, we will focus on the top 5 VPNs that have been proven working on the country, and we have ranked them using these five factors:
Download Speeds – this means that the faster the speed, the better is the VPN. This is the most important factor because no one would stick with a VPN that's too slow or not moving at all.
Reliability – a VPN should be reliable enough that you can easily connect when you need it. The connection must be stable and working all the time.
Ease of Use – it's vital that the application is easy to install, and you can use it in China quickly. The user interface must also be considered.
Customer Service – you should expect problems with any VPN products, and that's perfectly normal. That's why you need to find a provider that can offer excellent customer support, such as a 24/7 live chat, in case you need some assistance with fixing your issues about the VPN.
Best Free VPN for China
---
Here are some of the free VPNs that you can utilize in China so you can access the Internet freely.
ProtonVPN – this is the only free China that offers unlimited bandwidth. If you want to try their free service, you need to contact their live chat customer support so you will know the secret connection method specifically designed for users in China.
Tunnelbear – this VPN can offer you a free bandwidth plan of up to 500MB every month. It comes with a custom mobile app for Android and iOS. One of the downsides of this free VPN is internet access speed, which is not so great.
Lantern – this is a free proxy app that will allow you to enjoy a data bandwidth of 500MB per month with its free version. You can also upgrade to its paid version, which is the Lantern Pro. Their free service works in China for different operating systems like Android, Windows, Ubuntu, and macOS, but it is not compatible with iOS.
Psiphon – this free VPN will offer you a limited bandwidth, and it only works for Android, iOS, and Windows.
ExpressVPN – this VPN is free to use in China for a month. It comes with a 30 days money-back guarantee to its users.
VyprVPN – the same with ExpressVPN, this service provider will let you utilize its paid version for 30 days with a money-back guarantee. One of the best features of this VPN is its chameleon protocol that is not common to other service providers.
In the case where you are only visiting China, or you need to utilize a free VPN in less than a month, the most recommended providers for you are the ExpressVPN and VyprVPN. They are decent and reliable VPNs that offer, and their money-back guarantee must be considered.
However, if you are looking for a free VPN that you can utilize longer than three months and all you need to do is send emails and light messaging using your phone, you should try ProtonVPN. While those who are planning to utilize VPN for heavy web usage such as YouTube, streaming, and Netflix, then a premium VPN service is highly recommended.
Though you have some choices with free VPNs, we cannot say that they are reliable and can effectively protect your identity and security online. There are reasons why they are free, and sometimes, they can be dangerous.
Which VPNs DON'T Work in China?
---
Here is a list of VPNs that didn't work in China:
Private Internet Access – this VPN service provider is very popular. But if you try to utilize it in China, you will get blocked after a few minutes of connecting through it. 
HideMyAss
IPVanish
IVPN
Mullvad
The basic VPN services have no chance of evading the deep packet inspection tech and machine learning of the Great Firewall of China. For those VPNs that are working well in the country, they are using some advanced technologies that can disguise their VPN traffic.
Is it legal to use a VPN inside China?
---
This is a very common question we can hear from people who have been traveling to and from China. Though residents have the answer to this, those who are just visiting the country for three months or less may still wonder what the real deal with this VPN issue is. To be honest, there is no black and white answer to this question. Let's consider some situations why we can say that one.
If VPNs are illegal in China, the government should have arrested many VPN users because what they do is illegal. The Chinese government should have completely banned all VPNs in the country so it cannot be used by their residents and visitors. But that is not the case. In 2020, no foreigners have been arrested using VPNs. While the Great Firewall of China is preventing its people from accessing sites like Facebook, Google, Gmail, Twitter, etc., many can still gain access to these huge sites with the help of VPNs.
So what's the reason why China cannot completely block these VPN providers in the country? Simple. It's because VPNs are an important part of doing business. We all know that China is working with different international companies around the globe, and VPNs play an important role in transmitting important information from and to China. These international companies are using VPNs every day. So if China will shut down all VPNs in their country, it can affect the operations of the companies – both domestic and foreign – to do business in China.
We will go back to our question, is it legal to use VPNs in China? The honest answer lies in a gray area.
If you are a foreigner who is visiting the country, you won't have trouble with using a VPN. You just need to deal with all the annoyances since accessing a VPN service provider will never be easy. But you have the assurance that certain VPNs in China still work.
How to use VPN in China
---
Maybe you have heard that many countries have banned the use of VPNs and servers, and while China is one of them, things are not that simple. Some residents will say that this software is illegal in the country, and others will tell you that you can always utilize VPNs with no limitations. We all know that the right answer can be found in the middle. So the best thing that we can do now is learning how to utilize the best VPNs for China without violating the law.
How to Use VPNs in China Without Breaking the Law?
For those who have been following the stories about VPN in China, they have ideas of how the Chinese authorities are blocking VPNs.
If you are planning to utilize a VPN in China, you need to remember that the country is blocking access to the sites of different VPN providers. With this, you will find it impossible to subscribe to their services when you are inside the Chiner borders. The recommended way to solve this problem is to download your preferred VPN software before you enter the country.
Now that you have access to a VPN provider, you need to do the following so you can keep your Internet activities protected while staying within China:
Choose and subscribe to a VPN that will meet your needs.
Install the VPN app to your device.
Login into the VPN using the details given by the provider. 
Choose and connect to VPN server locations found outside China, like Hong Kong servers.
Start enjoying your Internet while hiding your identity online.
VPNs Vs. The Great Firewall of China
Most of us are aware that China is strictly regulated by its government, and the flow of information is not an exemption with this. This is the reason why there is a Great Firewall of China. This wall allows the authorities to filter or control the incoming and outgoing data on the internet. One of the best examples are websites that were blocked in China, like Google and Facebook.
There are many reasons why the Chinese government is doing this. One top reason is they wanted to control various political groups that are considered dangerous by the Chinese officials. Most of these political groups belong to Taiwanese and Tibetan. When the government started to control these groups, they began blocking different sites and forums that they can use. Yet these political organizations have found other ways to spread information like social media. By then, the Chinese government also started restricting access to sites like Google and Facebook.
After years, China finally understood the thought that blocking VPNs is impossible, and cannot prevent big companies from using it because they are essential to the organization. The government has seen some legitimate uses of VPNs, and instead of banning these services, they chose to regulate the VPNs and create a list of options for licensing.
Can I Use a VPN in China?
Though you have heard a lot of frightening news about using VPNs for China, it is always possible to utilize the service while you are at the country's border.
The idea of utilizing a VPN in this powerful country is a grey-are thing. Many sites around the globe have been blocked in China, and you cannot access them using the regular internet connection that you have on your phone. You will need a VPN if you want to check blocked sites or view restricted content. You don't have to worry about getting caught with this action because the government does not track down all the VPN users inside their country. You just have to make sure that you are using the Service for your purposes and, as much as possible, avoid risky situations. If you start doing suspicious activities on the Internet like downloading a massive amount of data every day, or you are getting in touch with a suspected person, then that is the time Chinese authorities will go after you and your online whereabouts. This situation does not only happen in China, but it also applies to the rest of the countries.
If you want to utilize VPN in China, you must remember that the company has strict laws and regulations about anti-pornography and anti-prostitution. You need to take this seriously if you don't want to mess up with the government. Don't be so entitled to the fact that you are using a VPN so you can do anything that you want.
Can Foreigners Use VPNs in China?
Since China is one of the countries with a strong economy, it's not surprising that many foreigners are interested in visiting the country for different purposes. If you are one of them, then you might be interested in using a VPN before stepping inside the country's borders. During the year 2015, you can utilize any VPN since the Great Firewall of China isn't that hard to evade. But what will happen if a foreigner got caught while using a VPN inside China?
There have been cases like this in the past. Josh Summers, who visited China last 2015, used a VPN while he was doing his business in the country. He was shocked to know that he cannot send messages, make phone calls, and do any online browsing while he is in Xinjiang. Josh's mobile service provider advised him to go to the police, and that where his mobile phone was confiscated. The authorities deleted all the 'legal' apps such as Skype and VPN applications, and his phone was handed back to him. He was not put behind bars or asked to pay any fine.
This story happened in 2015, and we cannot tell how the country is dealing with foreigners who are using VPNs today. The best thing that you can do if you are planning to visit China is to utilize the certified VPNs only.
Can You Use Corporate VPNs in China?
Large businesses and organizations are using the best VPNs for China for safety and security if their information. This is a common practice that you can find anywhere, and no country blocks this practice. This is the same in China. Since the country is interested in foreign investments, and they are working with international companies for economic advancement, the government does not completely block the use of VPNs.
Corporate VPNs are responsible for creating secure communication channels inside and outside the business. While various news sources say the Chinese government is disrupting these corporate VPNs, most companies can freely use their custom VPNs as long as they follow the rules, and they know their limitations.
There are limitations when using a VPN for China. The biggest rule about using corporate VPNs is that every data generated in China must remain within the borders of the country. This data includes ID cars, bank accounts, and passport information so every citizen in the country will be protected.
What is the Punishment for Using VPNs in China?
There is no clear picture when it comes to the punishment given to these people who were caught using a Virtual Private Network within China. Though the country is using the Great Firewall of China so regular web users can be prevented from accessing censored sites, anyone can easily bypass this with the help of a reliable VPN. This will bring us to the conclusion that the main goal of the Firewall is not to catch VPN users but to avoid those online users from leaving China without masking their identity using a Virtual Private Network.
You should never worry about punishment if you are legitimately using the VPN. The government will never go after you or put you in jail because of this action. Punishment will be your concern if you are using a VPN to access dark websites or perform any criminal cases online.
Can You Get a Legal VPN in China?
The safest way to use a VPN is to utilize one of those government-approved VPN solutions. Once you are using a VPN approved by the government, you don't need to hide your identity and activities online since they have been working with the authorities even before you have used them.
Best VPN for China Conclusion
---
With its massive server networks that cover more than 3,000 servers from more than 148 server locations all over the world, the ExpressVPN wins the name as best China VPN. Whether you are a resident from China or someone who is planning to visit the country for leisure or business reasons, ExpressVPN can be your partner in boosting your Internet browsing while staying within the border of the country. ExpressVPN can offer reliable servers that can work fast and can bypass the Great Firewall of China with no issues or troubles.
While some VPN providers recommend that you use servers from a country that is close to China (Hong Kong, Vietnam, Laos, etc.) so you can experience a fast speed, ExpressVPN will never require you to have such a condition because it's lightning-fast sleep is available in any part of the world. This service also features advanced security such as AES 256-bit encryption that hides different IP addresses, and it strictly implements the no-logs policy to any of its users, whether they are from China or not. The DNS and IP addresses leak protection are responsible for hiding your location and internet traffic. ExpressVPN will make sure that your identity and privacy are protected 24/7 as long as what you are doing is considered legal. The software's built-in automatic kill switch will keep you protected from loss of connections or device interruption without doing any manual work of configuration on your side.
Another impressive thing about ExpressVPN is its TrustedServer Technology, which uses RAM storage instead of a hard drive. This means that all of your information will be wiped at the end of every session. No details will be stored that can be used to trace you in case some spies will question your identity. This security will leave nothing on file to keep you protected all the time. The simultaneous connections, 24/7 live chat for its users, and the 30 days money-back guarantee are some of the additional offers of ExpressVPN, which makes it a complete and best VPN for China.